Taking Fish Oil Supplements Reduces Stroke Risk, Study Says
Nov 1st, 2012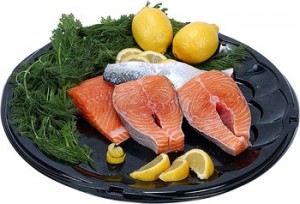 A recent study suggests that eating at least two servings of fish per week reduces the risk for stroke. The same research also suggests that fish oil supplements do not have the same effect.
For years, regular consumption of fish and long chain omega-3 fatty acids has been known to reduce the risk of coronary artery disease. Current guidelines suggest that we should eat at least two servings of fish (especially the oily ones) per week.
For the study, recently published in the British Medical Journal, the research team wanted to find out if fish consumption will reduce the risk for stroke.
To investigate the link between fish consumption and risk of stroke and mini-stroke (medically known as transient ischemic attack), researchers analyzed the results of 38 studies involving nearly 800,000 individuals in 15 countries.
Participants included people diagnosed with cardiovascular disease and as well as those with lower risk for the disease. Researchers took differences in study quality into account to minimize bias.
More than 34,000 cerebrovascular events were recorded during the studies.
To assess fish and long chain omega-3 fatty acid consumption, researchers used dietary questionnaires, omega-3 biomarkers in the blood, and records of fish oil supplements use.
"This review found that higher fish consumption is moderately but significantly associated with a reduced risk of incident cerebrovascular disease," the authors concluded.
According to the study, those who ate two to four servings of fish per week reduced their risk for cerebrovascular disease by six percent compared with those who ate one or fewer servings of fish per week. Furthermore, those who ate five or more servings of fish per week had a 12 per cent lower risk.
However, the bio-markers and fish oil supplements were not associated with a reduced risk for stroke.
"These findings therefore suggest that single nutrients may have limited effects on chronic disease outside of their original food sources," researchers said.
Some other factors may explain the results, but researchers conclude that they "reinforce a potentially modest beneficial role of fish intake in the cause of cerebrovascular disease."
Possible explanations for the results include:
Fish contain other nutrients like vitamin D and B complex that is also associated with lower stroke risk.
People consume fish as substitute to read meat.
People who regularly eat fish have healthier diet or higher socioeconomic status that also benefits vascular health.
Source: VISTA Health Solutions
Related posts from our blog:
No related posts.