Calcium Supplements May Increase Risk For Heart-Related Deaths in Men
Feb 5th, 2013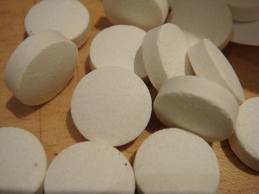 Warning! Men who regularly take calcium supplements have a 20 percent greater risk of dying from cardiovascular disease, a recent study says.
Many adult men and women take calcium supplements to prevent osteoporosis. The study, which investigated calcium intake, noted that the risk of dying from heart disease was higher for men but not for women.
The report was recently published in the online edition of the journal JAMA Internal Medicine.
Researchers from the U.S. National Cancer Institute wanted to find out if taking calcium supplements increased the risk of dying from cardiovascular disease. For the study, the team collected data on more than 385,000 men and women between 50 and 71 years old who took part in a government research between 1995 and 1996.
During the twelve-year follow-up, about 7,900 men and 4,000 women died from cardiovascular disease. Among those who died, 51 percent of men and 70 percent of women took calcium supplements.
The team concluded that men taking 1,000 mg of calcium supplement a day had a twenty percent higher risk of dying from cardiovascular disease. They also found that men had a 14 percent increased risk of dying from a stroke, a statistically insignificant data.
However, women who took calcium supplements do not have an increased risk of dying from cardiovascular disease. In addition, calcium derived from diet did not increase the risk of dying from cardiovascular disease for both men and women.
The authors recommended more research to find out whether there is a difference in the cardiovascular effects of calcium supplements on men and women.
"Given the extensive use of calcium supplements in the population (often for osteoporosis), it is of great importance to assess the effect of supplemental calcium use beyond bone health," the authors said.
Although the study may be inconclusive since no cause-and-effect relationship was established, taking calcium supplements should be avoided without checking with the doctor to determine the benefits and risks of these supplements.
Source: VISTA Health Solutions
Related posts from our blog:
No related posts.