Smoking in Cars Exceeds UN Pollution Limits
Oct 23rd, 2012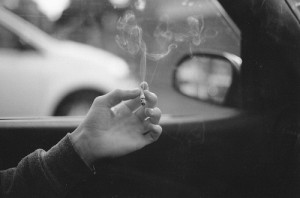 Smokers lighting up in their cars release pollution levels that exceeds World Health Organization limits even with open windows and the air conditioning switched on.
The study, published in the journal Tobacco Control, said that smoking in an automobile is harmful to passengers as fine particulate matter is released and circulated in the confined indoor space.
Child passengers are particularly vulnerable to such dangerous pollution levels because of their high respiration rate and underdeveloped immune system, the authors said.
For the study, levels of fine particulate matter was measured in the backseat every minute during car trips made by smokers and non-smokers alike over a three-day period.
There were a total of 17 volunteer drivers, 14 of which were smokers. They made a combined 104 trips, lasting from 5 to 70 minutes with an average of 27 minutes in the areas of West of Scotland and East of England.
Researchers recorded particulate matter levels in 83 trips and the other 34 trips were smoke-free. During the non-smoking trips, the levels had an average of 7.4 micrograms/m³. The levels were more than ten times as high during smoking trips at 85 micrograms/m³.
Particulate matter levels varied depending on the number of cigarettes smoked during the trip. The average peak was at 385 micrograms/m³. However, one trip was recorded as having 880 micrograms/m³.
Of the 14 volunteers who smoked, 5 smoked 20 or more cigarettes per day; 7 smoked between 10 and 19 cigarettes per day; and 2 smoked less than 10 cigarettes per day.
Smokers opened their car windows each time they smoked to increase ventilation.
Dangerous levels that exceeded the WHO limit of 25 micrograms/m³ were recorded at some point during smoking trips.
Children exposed to second hand smoke are at an increased risk of developing respiratory tract infections, ear infections, middle ear fluid, some forms of cancer, and many other diseases.
"Children exposed to these levels of fine particulate are likely to suffer ill-health effects," the study said. "There are increasing numbers of countries legislating against smoking in cars and such measures may be appropriate to prevent the exposure of children to these high levels of second-hand smoke."
Source: VISTA Health Solutions
Related posts from our blog:
No related posts.