Need a memory jolt? Eat a berry!
May 3rd, 2012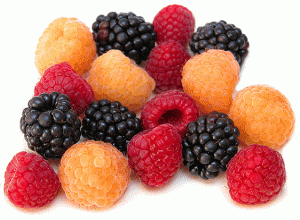 Recent studies by Brigham and Women's Hospital and Harvard Medical School suggest that eating berries that are rich in flavonoids can slow down memory degeneration for up to two and a half years among older women.
According to Nancy Copperman, director of public health initiatives at the North Shore-LIJ Health System in Great Neck, N.Y. "Flavonoids, which are antioxidants found in berries, apples, citrus fruits, tea, red wine and onions, have been shown to reduce the risk of chronic diseases such as heart disease, diabetes and cancers."
"Given that we know that fruits and vegetables are good for our health in general, our findings add to the idea that we should be consuming more, especially berries, as a way to help maintain memory in older ages."
Berries in particular contain a specific kind of antioxidant called anthocyanidins. Elizabeth Devore, an instructor in medicine at Brigham and Women's Hospital and Harvard Medical School, in Boston said, "anthocyanidin helps give berries their rich colors, and it's found in fruits such as raspberries, blueberries, strawberries, cherries, elderberries, and red and concord grapes. She further explained that anthocyanidins can cross the blood-brain barrier and that flavonoids tend to locate in the areas of the brain responsible for memory and learning.
The study began in 1980. They measured the mental function of women who were over 70 and had not had a stroke. Telephone interviews were conducted every two years. The participants were asked to recall parts of what they just heard. They were also asked to recall the order of numbers or words in a list.
The result showed that the women who ate more than one serving of blueberries per week  and more than twice a week of strawberries showed slower cognitive decline by as much as 2.5 years.
Devore said, "This is a major step forward because little research previously has explored the effects of berries and flavonoids on memory in older adults. This is the first study of its kind — the first large, epidemiologic study of berry intake in relation to memory decline."
Related posts from our blog:
No related posts.