Fruits and Vegetables May Prevent Breast Cancer, Study Says
Dec 12th, 2012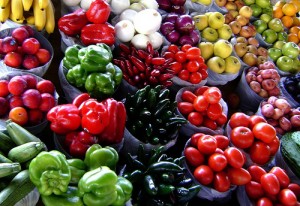 Women with high levels of micro-nutrients known as "carotenoids" may be less likely to develop and prevent breast cancer, a recent study found.
Researchers from Brigham & Women's Hospital and Harvard Medical School found that women who had high levels of the naturally occurring plant pigment showed reduced breast cancer risk, especially for tumors that do not rely on estrogen for growth (ER- tumors).
"The inverse associations we observed among ER- tumors highlight carotenoids as one of the first modifiable risk factors for this poor prognosis tumor type," the authors said.
According to the National Cancer Institute, breast cancer is the most common type of cancer among women in the United States. More than 226,000 female and 2,000 male cases will be diagnosed next year and will kill more than 39,000 women and 410 men.
Carotenoids are naturally-occurring pigments that add deep green, yellow, orange, or red colors to fruits and vegetables. Some of the most common carotenoids include beta-carotene and lycopene. Produce rich in carotenoids include carrots, tomatoes, bell peppers, papaya, kale, spinach, and sweet potatoes.
Previous studies have shown that carotenoids inhibit tumor growth and reduce the spread of breast cancers.
The study, published in the Journal of the National Cancer Institute, analyzed eight previous studies concerning carotenoid levels and breast cancer which involved thousands of women. Researchers have found a significant link between high carotenoid levels and low breast cancer risk.
"A diet high in carotenoid-rich fruits and vegetables offers many health benefits, including a possible reduced risk of breast cancer," the authors said.
Source: VISTA Health Solutions
Related posts from our blog:
No related posts.