East Coast Heat Wave Heralds Summer Season
Jun 25th, 2012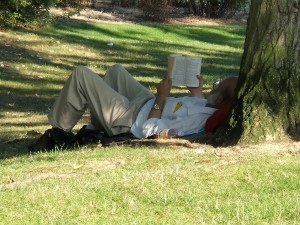 Summer's here. The east coast got this message loud and clear via heat wave last Wednesday.
Temperatures ranging from mid to high 90s were recorded along the eastern seaboard, where some of the country's most populated areas are located.
The National Weather Service warned that Wednesday's temperatures are just the beginning. The agency said the high pressure off the Carolina coast will continue to bring dangerous heat to some parts of the region. An Excessive Heat Warning has been raised in the northeast including Delaware, New Jersey, Maryland, and Philadelphia, where heat indices are expected to be between 98 and 105 degrees.
Last Wednesday's temperatures were some of the highest recorded in history for several towns and cities. The mercury reached 98 degrees at the LaGuardia Airport in New York, the highest since 1953. In Lamar, Colorado, temperatures reached 108 degrees, the highest recorded on Wednesday. Eleven more areas in Colorado registered the highest temperatures in the country on Wednesday.
As a safety measure, states are setting up cooling centers for the homeless and those without air conditioning. Here are some tips on how to help you survive this east coast heat wave.
Protect yourself from extreme heat
Do you live in one of these areas? It is important to know how you can protect yourself against the extreme heat.
According to the Centers for Disease Control and Prevention (CDC), infants, children, the elderly, overweight individuals, and those with chronic medical conditions are the most vulnerable to heat-related illnesses.
The elderly should be monitored regularly as they are prone to develop dehydration. In addition, elderly patients who take multiple medications may lack the ability to regulate body temperature which can lead to heatstroke.
Patients with heart conditions are also vulnerable to blood pressure and body fluid changes during extremely hot days.
Help your body cool down by wearing loose, lightweight, and light-colored clothing. Wear a hat with sunglasses for protection when going under the sun. Wear sunscreen to prevent sunburn, as this can lower your body's ability to remain cool and cause you to lose more body fluids.
Keep bottled water handy. Hydration is important to help your body sweat, allowing you to maintain normal body temperature. Avoid alcohol and sugary drinks as they can lead to dehydration.
Be aware of the signs and symptoms of heatstroke such hot, dry, and non-sweaty skin; dizziness, nausea, headache, and rapid pulse. Seek immediate medical attention for suspected heatstroke.  Do your best to stay Healthy NY
Related posts from our blog:
No related posts.