Study Links Owning A Dog To Healthy Heart
May 16th, 2013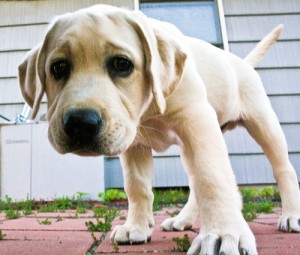 Dogs may be more than man's best friend. You're four-legged companion can also lead to a healthy heart, experts say.
According to a statement released by the American Health Association (AHA) last Thursday, having a pet, particularly a dog, may lower your risk of heart disease.
Healthy Heart linked to Dogs
"Studies have shown people who own pets, particularly dogs, have lower blood pressure, increased mood-related brain chemicals, better cholesterol numbers, lower weight and improved stress response," said Barbara George, director of the Center for Cardiovascular Lifestyle Medicine at Winthrop-University Hospital in Mineola, N.Y.
The AHA committee that came up with the statement reviewed data from several studies. They found that owning a pet seems to be associated with a reduction in heart disease risk factors such as high blood pressure, high blood cholesterol levels, and obesity. It also improved survival rates among people with heart disease.
Dogs linked to greater exercise levels over other pet owners
The statement also pointed out healthy heart advantages dog owners have over other pet owners. People who own dogs get more exercise because they take their dogs for walks.
"Walking your dog is a healthy chore; it is a great way to exercise without thinking about it," said Dr. Nieca Goldberg, clinical associate professor at NYU Langone Medical Center in New York City. "Pet owners increase their physical activity simply by walking their dogs."
Can pets Change the way your body acts to stress
Having pets can also change the way your body reacts to stress, the statement said. Pets can be "a tool for weight loss, socialization, calming our nerves and easing anxiety and depression," George said.
However, the AHA also said that the studies they reviewed did not prove that owning a pet directly lowers heart disease risk.
"It may be simply that healthier people are the ones that have pets, not that having a pet actually leads to or causes reduction in cardiovascular risk," said committee chairman Dr. Glenn Levine in an AHA news release.
"There probably is an association between pet ownership and decreased cardiovascular risk," he said. "What's less clear is whether the act of adopting or acquiring a pet could lead to a reduction in cardiovascular risk in those with pre-existing disease. Further research, including better quality studies, is needed to more definitively answer this question."
The AHA statement was published May 9 in the journal Circulation.
Related posts from our blog:
No related posts.