Chemotherapy May Worsen Cancer, Study Finds
Aug 7th, 2012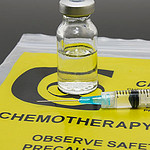 For a very long time, we have been using chemotherapy to treat several forms of cancer, but a recent study in the United States suggests that the aggressive treatment method may actually make cancer worse.
By attacking both cancerous and healthy cells, chemotherapy inadvertently causes healthy cells to secrete a protein that causes tumor to grow rapidly and resist treatment.
Scientists discovered this phenomenon unexpectedly when they were trying to find out why cancer cells are so tough to kill inside the human body yet vulnerable in the lab.
For the study, researchers tested the effects of chemotherapy on tissue collected from men with prostate cancer. After the treatment, scientists found damage to the DNA of healthy cells.
Chemotherapy agents act by killing cells that rapidly divide, a major characteristic of cancer cells as well as healthy cells like hair, skin, and those that line the digestive tract.
The study, published in Nature Medicine, found that healthy cells affected by chemotherapy agents secreted a protein known as WNT16B, a substance which sustains tumor survival and growth.
The surrounding cancer cells took up the protein secreted by the damaged cells.
"The increase in WNT16B was completely unexpected," said co-author Peter Nelson of the Fred Hutchinson Cancer Research Center in Seattle. "WNT16B, when secreted, would interact with nearby tumor cells and cause them to grow, invade, and importantly, resist subsequent therapy," he added.
Tumors initially respond well to chemotherapy. However, this is usually followed by a period of rapid re-growth and resistance to chemotherapy.
Tumor cells have been shown to grow at accelerated rates between treatments.
"Our results indicate that damage responses in benign cells… may directly contribute to enhanced tumor growth kinetics," the authors say.
The researchers also confirmed their data with breast and ovarian cancer tumors.
The authors recommend further research which can lead to new and improved treatment.
"For example, an antibody to WNT16B, given with chemotherapy, may improve responses," said Nelson. "Alternatively, it may be possible to use smaller, less toxic doses of therapy."
Source: Health Insurance News
Related posts from our blog:
No related posts.