Want to Lose Weight? Eat Some Dessert for Breakfast
Jul 3rd, 2012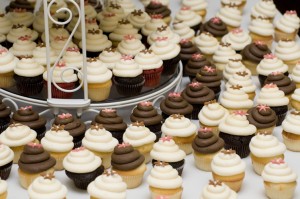 Are you trying to lose weight but having a hard time controlling your appetite? Does thinking about eating less make you hungry more?
You may think  that this is too good to be true but researchers from Tel Aviv University suggest that eating dessert at breakfast can actually help you lose weight.
People usually eat dessert after lunch or after supper but ironically based on the study, eating a sweet treat in the morning can make you lose weight.
"The goal of a weight loss diet should be not only weight reduction but also reduction of hunger and cravings, thus helping prevent weight regain," said Dr. Daniela Jakubowicz of Tel Aviv, Israel.
Their study revealed that those who had a high-calorie breakfast which included sweets, lost about 45 lbs in eight months; on the contrary,  participants who were given a low calorie, low carbohydrate diet lost only 8 lbs in four months.
Their breakfast was a high protein meal tuna, egg whites, cheese and low-fat milk. For dessert they were asked to choose among a cookie, chocolate, cake or a doughnut.
Initially, both groups – those who didn't have dessert and those who ate dessert, lost about 33 lbs per person. However in the last part of the study, those who had no dessert regained 22 lbs. On the other hand, the group who had dessert lost another 15 lbs.
Our body has a hunger-promoting hormone called ghrelin which can be suppressed when we eat a high-calorie breakfast. This makes us less hungry and crave less.
Trying to lose weight  can be very discouraging but don't stress yourself too much. As per Dr. Jakubowicz  "if you eat what you like, you decrease cravings. The cake — a small piece — is important."
So if you want to lose weight consistently, eat your breakfast regularly. But not just any breakfast – make sure it's a high-carbohydrate, high-protein diet with  a dessert. Most importantly stay Healthy NY
Related posts from our blog:
No related posts.