Excessive Eating Increases Memory Loss Risk, Study Shows
Feb 13th, 2012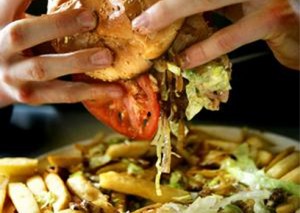 Older adults who overeat have a higher risk for memory impairment, a recent study finds.
The authors studied adults 70 years old and older and found that those who consume between 2,100 and 6,000 calories a day have twice the risk for these deficits in memory, which can be an early sign of Alzheimer's disease.
"Consuming excessive calories every day may have ill effects on brain-health," according to head researcher Dr. Yonas Geda, associate professor of psychiatry and neurology at the Mayo Clinic in Arizona.
"This is another reason for us to be aware of our daily caloric intake," he said. "The general consensus is eating in moderation is not only good for your body but may be good for your brain as well."
The researchers collected data of more than 1,200 adults aged between 70 and 89, living in Olmsted County, Minnesota. Among them, 163 had been diagnosed with mild cognitive impairment.
Researchers recorded the daily caloric intake of the subjects. One-third consumed between 602 and 1,520 calories each day, one-third consumed between 1,521 and 2,140 calories each day, and another third consumed between 2,141 and 6,000 calories each day.
The study found that those who ate the most have more than twice the risk of being diagnosed with the impaired-memory disorder compared to those who ate the least.
The middle group had no significant increase in risk for memory problems, according to the study.
When other memory loss risk factors like diabetes, history of stroke, and high blood pressure were taken into account, the findings still remained the same.
"We also factored in Body Mass Index or BMI and obesity," Geda said. "No significant difference was found between normal subjects and those with mild cognitive impairment when the two variables were considered."
It isn't clear why the excessive intake of calories affects the brain, but "consuming excessive calories may lead to oxidative damage and cause structural changes in the brain," Geda added.
"The U.S. population is aging at a fast rate," said Dr. Neelum Aggarwal, professor of neurological sciences at Chicago's Rush University. "More elderly patients are interested in finding out their risks for various diseases, especially mental decline and dementia."
"This study gives doctors a clearer picture of how common healthy living habits like eating a nutritious diet, consuming less salt and sugar, and exercise can benefit overall brain function," he added.
"The study opens up the exploration of the possible mechanisms for cognitive decline and presents new ways to prevent the disease through nutrition and caloric regulation," Aggarwal said.
The study may have found an association between overeating and cognitive impairment, but a cause and effect relationship is not established.
Related posts from our blog:
No related posts.