Laws Defining Pre-Existing Conditions
Sep 20th, 2010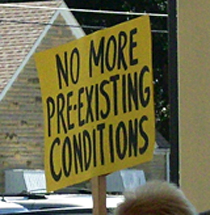 It is so amazing to read all the laws that exist on the books and how many of them are actually enforceable. What is at odds with regard to the ever-growing list of pre-existing conditions is how the list fluctuates from year to year. Of course, this is dependent upon which pre-existing health insurance issues are costing the most money to the health insurer. There are a few issues that still remain and leave the medical health care provider at odds with the health insurance provider.
Laws of pre-existing health care issues
The denial of coverage
Defining what is and what is not a pre-existing health care issue
Exclusions for what is a pre-existing health care condition
Federal and state laws of pre-existing conditions
The laws regarding pre-existing conditions in a sense is to limit the health insurance providers of denying or limiting needed health insurance coverage to individuals. The reasoning behind this is because many pre-existing conditions are long-term illnesses and will cost the health insurance provider.
However, not all pre-existing health care conditions are long-term and most health insurance providers will eventually offer coverage after a twelve-month, eighteen month, and at times twenty-four month abstinence by the insured. Individuals in search of a reputable health insurance provider must understand how the game is played. The health insurance provider is in the business to help individuals and make money to sustain the business.
The denial of health insurance benefits for a given pre-existing condition is because it will ultimately cost the health insurance provider more than what they are currently taking in through healthier clients annually. In many cases, it becomes a very difficult decision.
Trying to define what is and what is not a pre-existing condition is a matter of conjecture simply because the list does change periodically. Some issues are added while other issues are eliminated, to the discretion of the health insurance provider. However, this also helps to open up avenues to offer low cost health insurance to the healthier individuals.
Defining pre-existing health care conditions changes from state to state because it was never nationalized, but the exclusion of certain pre-existing health care conditions is standard in all states. This is where the waiting period comes into play for individuals who have gone without any medical health insurance coverage for over six months. In many cases, this occurs when an individual is released from one place of employment and before they are accepted into another place of employment.
Related posts from our blog:
No related posts.