Costly Health Insurance
Jan 6th, 2010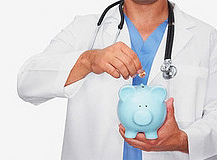 The majority of self-employed individual everywhere, not just in New York are aware of the value of good health insurance. Without good medical insurance life can and sometimes does take a nasty turn for the unprepared. What most individual entrepreneurs are in search of is the medical insurance company that will provide the best options. The problem is this will entail much time that will take away from the new business you are trying to operate. The novice entrepreneur will have a few things to research before making such an important decision.
1.               The overall cost of acquiring a health policy
2.               Will the cost of a health policy be deductible annually
3.               Various way to reduce the overall cost
4.               What type of medical coverage best suits
There other issues to consider before signing on that dotted line for a low cost health insurance policy. One of the most important issues is to research the stability of the insurance financial institution for solubility. Remember this is the insurance company that is supposed to settle and pay the claims that you submit over time. The individual entrepreneur can also check the institutions ratings with Standard & Poor for a little reassurance.
Individual entrepreneurs who are just so involved with the day-to-day operation of their new business can always talk with an agent. Insurance agents are there to help and take care of most of the footwork in finding a suitable policy. The insurance agent does have the specific connections to locate an affordable health insurance policy that will suit you, your new business and cover employees when you decide to add a few.
The insurance agent will make note of all the issues you wish to research and get back to you as soon as all of the necessary information is available. There is one thing you will have to understand though. The insurance agent you hire to research all the information for you also charges a percentage of your insurance policy. This can be as high as fifteen percent and as low as eight percent depending on the insurance company the policy.
Hiring an independent insurance agent will help you every step of the way even after you make the decision of which health care policy you are willing to try. This task may take a few weeks to a few months to settle, but once you feel comfortable with a particular insurance company the insurance agent will keep in touch to see that you remain pleased.
Related posts from our blog:
No related posts.