AmeriHealth Health Insurance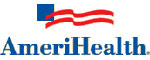 Are you self employed looking for AmeriHealth health insurance quotes? or perhaps you're considering AmeriHealth health insurance plans as an option to COBRA? We can show you your AmeriHealth options as well as other health plan choices from leading carriers in your area. I'm sure you'll be able to find a suitable AmeriHealth health insurance plan that's right for your needs and budget. With Vista Health Solutions, you can be assured that you're doing business with a company that knows what it's doing. We have been in the service of providing quotes including AmeriHealth health insurance quotes for about twenty years now. And our service doesn't stop there. We assist customers with their inquiries and guide them throughout the application process until you know you're application is approved. You can also count on us to remind you of your renewal date. Customer service is our specialty.
Created in 1995, this health insurance company was originally called Delaware Valley HMO. Its goal was to provide health insurance coverage for the following counties: Burlington, Camden, Gloucester, and Salem. Slowly, it gave coverage to Southern New Jersey along to Delaware before expanding to cover all of New Jersey and areas in Pennsylvania.Now, it covers 265,000 individuals and 8,000 businesses.
They have made active strides to boost their technology-base, hoping to make it easier for the general public as well as brokers to see how many transactions they make every year. With the website, members can view things such as, "the status of their claim" or, have the ability to contact a clinician at any hour of the day.
They are actively involved with the community and seeking to enhance their health as well as their member's well-being. Some of the perks of going with Amerihealth include dentist visits, eye appointments, prescription refills, worker's compensation coverage, Medicare and Medicaid.