Mediterranean Diet Lowers Risk of Heart Problems, Study Says
Feb 26th, 2013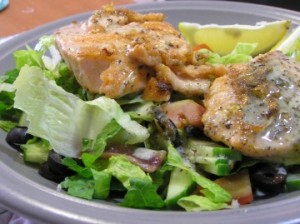 A Mediterranean diet rich in olive oil, mixed nuts, fish, fruits, and vegetables cuts the risk of heart attack, stroke, and death by 30 percent in less than five years, a recent study said.
Previous studies have associated the diet, common among southern European countries such as Greece, Italy, and Spain with healthier hearts. This time, researchers ruled out other health or lifestyle factors that may have contributed to a better heart health such as exercise and calorie restriction.
For the study, researchers followed 7,500 adults who are at risk of heart disease for five years to single out the effect of diet in particular. All trial volunteers had a high risk for heart disease – due to diabetes, smoking, or other issues – but no cardiovascular problem existed at the start of the study.
"This is good news, because we know how to prevent the main cause of deaths – that is cardiovascular diseases – with a good diet," said Dr. Miguel Angel Martinez-Gonzalez, researcher and professor at the Universidad de Navarra in Pamplona.
Volunteers were divided into three groups: Two groups were instructed to eat a Mediterranean diet – one added a supplement of extra virgin olive oil and the other with nuts. The third group ate a "control" diet, centered on low-fat dairy products, grains, fruits, and vegetables.
During the five-year period, 288 participants suffered a heart attack or stroke, or died of a cardiovascular disease.
Researchers found that people on Mediterranean diets had a 28 to 30 percent less risk of developing a cardiovascular disease than those on the general low-fat diet.
The heart benefits of Mediterranean diet come from a blend of several components, and not one ingredient in particular, said Dr. Martinez-Gonzalez.
"The quality of fat in the Mediterranean diet is very good," he said. "This good source of calories is replacing other bad sources of calories. In addition, there is a wide variety of plant foods in the Mediterranean diet."
He suggested that people who want to improve their diet start with small things, like not eating meat for one or two days a week, cooking with olive oil, and drinking wine instead or hard alcohol.
Related posts from our blog:
No related posts.