'Marijuana Pills' Better for Pain Relief
Apr 26th, 2013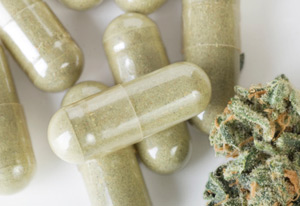 A marijuana pills provides greater pain relief, with fewer side-effects than when a person smokes it, according to a study conducted by researchers at Columbia University in New York and published in the Journal Neuropsychopharmacology. Smoking marijuana carries health risks, for it carries carcinogens and respiratory irritants and users tend to inhale deeply and hold their breath to gain maximum effect.
"Smoking anything presents certain health risks," said study researcher Ziva Cooper, an assistant professor of clinical neurobiology at Columbia University's Department of Psychiatry. "Substances in the smoke can reduce lung function or increase the risk of cancer. Pain relief from pills may last longer and may not leave people feeling as high as they do after they smoke the drug," Cooper added. Users reported less pleasure from marijuana pills than smoking, making it less addictive.
Cancer and multiple sclerosis doctors are looking more and more closely at marijuana for patients seeking relief from pain, and some jurisdictions allow the medical use of the drug for this purpose. The pill known as Dronabinol which contains the active ingredient of marijuana, tetrahydrocannabinol (THC) has already been approved to treat cancer patients undergoing chemotherapy and AIDS patients with nausea and vomiting. The findings could undermine the growing U.S. medical marijuana market, which is now estimated to be worth $1.3 billion.
The study entailed a "cold pressor test", in which the participants immersed a hand into a bath of extremely cold water for up to two minutes, during which they reported on the sensation of pain. The researchers asked 15 male and 15 female volunteers, all of them daily marijuana smokers, to carry out a pain test after having smoked, taken Dronabinol or a dummy look-a-like called a placebo. How long it took them to report pain (pain sensitivity) and remove their hand from the water (pain tolerance) was documented. Participants also answered questions about how intensely they felt the pain during the experiments and how high they felt.
When researchers tallied their data, they found that both the smoked drug and marijuana pills were about equally effective at controlling pain. "The magnitude of peak change in pain sensitivity and tolerance did not differ between marijuana and Dronabinol, although Dronabinol produced analgesia that was of a longer duration," said Cooper.
The study involved regular marijuana users, so it's not clear if the results would apply to people who don't regularly consume marijuana. The study was also small, with just 30 people. The findings are promising for medical uses of the THC pill, but more work is needed to determine its impact on individuals who do not smoke marijuana.
Related posts from our blog:
No related posts.