Acetaminophen Abuse Harmful to Liver, FDA Warns
Feb 1st, 2013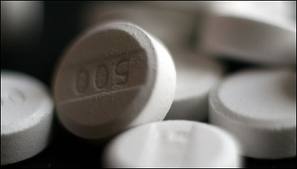 A new term exists in the over the counter prescription market, acetaminophen abuse. Overuse of acetaminophen, a common ingredient in prescription and over-the-counter drugs used to treat fever and provide pain relief may cause liver damage, the United States Food and Drug Administration warns.
Acetaminophen can be found in over 600 medicines, and can be safe and effective. However, the problem lies when people combine different medications to treat several symptoms. Additionally, it might take days before symptoms of acetaminophen overdose can be detected.
"If you're taking more than one medicine at a time, you may be putting yourself at risk for liver damage," said Dr. Fathia Gibril, a medical officer at the US FDA.
According to the U.S. National Institutes of Health, about 70 percent of Americans use over-the-counter medications to treat cold, cough, and flu symptoms. The maximum recommended adult dose of acetaminophen is 4000 mg per day, the U.S. FDA said. People who overdose on acetaminophen may experience cold- or flu- like symptoms.
"When you're at the store deciding which product to buy, check the 'Drug Facts' label on [over-the-counter] cold, cough and flu products before using two or more products at the same time," Dr. Gibril said. Ask the pharmacist if you're not sure which one you should buy, she said.
Take caution when reading a product's label. Acetaminophen may be abbreviated as APAP, Acetaminoph, Acetaminop, Acetamin or Acetam. The U.S. FDA's website contains a list of brand-name products that contain acetaminophen.
Overdoses from medicines which contain acetaminophen make up almost half of all cases of acetaminophen-related liver damage in the United States, according to the U.S. FDA. Consumers are advised to inform their doctors about any prescription or over-the-counter medications they take. They should be aware of the active ingredients of newly prescribed medicines and inform their doctors about any history of liver disease before taking acetaminophen.
Taking acetaminophen with alcohol is another serious threat. Inform your doctor if you consume three or more drinks a day before taking medications with acetaminophen.
To avoid acetaminophen overdose, the U.S. FDA recommends the following steps:
Avoid taking more than one over-the-counter medicine that contains acetaminophen.
Avoid taking a combination of prescription drug and over-the-counter medication which contain acetaminophen.
Do not take more than the recommended daily dose of acetaminophen. Consult your doctor or pharmacist to find out the maximum recommended daily doses for infants, toddlers, and children.
Source: VISTA Health Solutions
Related posts from our blog:
No related posts.