Your Home is Making You Fat If?
Feb 19th, 2013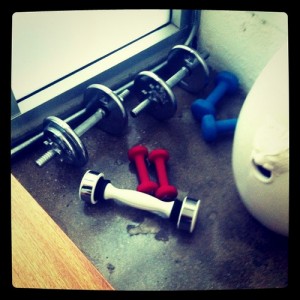 Still can't get the weight off? This might be odd, but perhaps your home is making you fat,  by ruining your diet and exercise plans. Here's how:
You know your home is making you fat if
You have an open floor plan
Many people love an open floor setup because it's convenient. The problem is it can be too convenient for some; making it too easy and tempting to walk to fridge and grab something to eat. Avoid mindless eating by sticking to a strict eating schedule. If you can't avoid going to the kitchen, make sure you prepare snack sizes rather than eating out of the box to avoid overeating.
You hide your exercise machines
Many people are guilty of investing in an exercise machine and leaving it somewhere to gather dust after a couple of months. Find an easily accessible area for your fitness equipment where you can dedicate your workout sessions. You might also need to add variety to your fitness regimen, so it's a good idea to get some free weights, a yoga mat, and some instructional videos.
You fill your cabinet with junk food
Filling your cabinet with junk food can easily lead to calorie overload. Limit stocking on chips and cookies. Eat healthier snacks by preparing them ahead of time. Cut up bite sizes of fruits and vegetables like apples, carrots, cucumber, and melon. These snacks are not only healthy, but can help cut your calorie consumption.
You have huge plates
Eating on a larger plate can lead to bigger portions and overeating. Eat on 9-inch plates instead of 12-inch ones. This method tricks your brain into thinking you're getting more food than you actually are.
You have a bathroom on each floor
By going to the bathroom nearest you, you're depriving yourself of the opportunity to move more. Burn extra calories by going to the farthest bathroom; preferably one that's on a different floor.
Your have pictures of food lying around
Cookbooks and food magazines can help you prepare delicious meals. However, staring at food pictures the whole day can lead you to crave more food. Keep these materials hidden and display health and fitness magazines to encourage you to get out of the couch and move.
Related posts from our blog:
No related posts.