Study: Walking Throughout The Day Better Than Going To The Gym
Feb 15th, 2013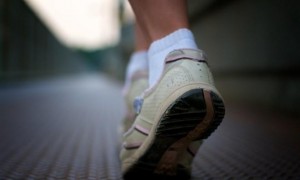 Is walking throughout the day better than going to the gym. While working out in a gym can get your heart pumping, a new study claims that walking throughout the day may actually be more beneficial to your health.
According to the study, recently published in the journal PLOS ONE, long periods of low intensity exercise improves insulin sensitivity and decreases cholesterol levels more efficiently than a high intensity exercise in the gym.
"Get out of your chair as much as you can, take the stairs instead of the elevator, go by bike, and leave your car at home," said Dr. Hans Savelberg, lead author and assistant professor at the Department of Movement Sciences in Maastricht University Medical Centre in the Netherlands.
For the study, the team followed 18 healthy adults aged 19 to 24, separated into three groups. The first group sat for 14 hours and did not exercise. The second group sat for 13 hours and exercised vigorously for one hour. The third group sat for 8 hours, walked for four hours, and stood for another two.
Researchers found that burning the same amount of calories while standing and walking over the course of a day is better in preventing diabetes and controlling cholesterol than an hour of intense exercise.
"One hour of daily physical exercise cannot compensate for the negative effects of inactivity on insulin sensitivity and plasma lipids if the rest of the day is spent sitting," Dr. Savelberg said.
"Reducing inactivity by low intensity activities such as walking at a leisurely pace and standing is more effective than physical exercise in improving these parameters in sedentary subjects," he said.
The authors recommend that people should spend enough time walking and standing in addition to burning energy to maintain neutral energy balance.
Some simple tips to walk more each day:
Park your car farther away from your destination.
Take the stairs instead of riding an elevator when possible.
Arrange to have "walk meetings."
Go window shopping.
Wake up fifteen minutes earlier and walk around the block before going to work.
Related posts from our blog:
No related posts.