Whooping Cough Cases On The Rise
Jul 23rd, 2012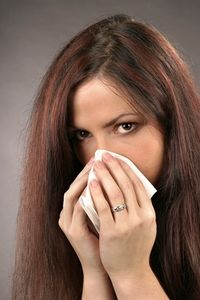 The United States may see its highest number of whooping cough cases this year, health officials said.
Whooping cough or pertussis is a highly contagious bacterial infection that is notorious for causing deep cough, mostly among children. Coughing spells can last long and hard and when the patient finally tries to catch a breath, a characteristic "whoop" sound is heard.
There have been more than 16,000 cases of whooping cough in the U.S. so far this year, said Stacey Martin, an epidemiologist with the Centers for Disease Control and Prevention (CDC). Latest projections indicate that this will be a record year, she said.
The previous record was 27,550 cases in 2010, when it killed 27 people, including 25 babies.
There are several factors that contribute to this problem. Infants younger than two months are too young to be vaccinated, making them vulnerable. Also, the formulation for the vaccine was modified in the 1990s for safety reasons, rendering them less effective, Martin said.
According to the CDC, 95 percent of children in the country are vaccinated. However, only 10 percent of adults are.
To acquire immunity, children are required to have five doses by age 6. In addition, a booster dose is needed by the time they reach their teens. According to the latest CDC guidelines, adults should get at least one dose of diphtheria, pertussis, and tetanus vaccine.
This creates confusion since there are numerous vaccines available in the market, and some of them do not include protection against pertussis, said Dr. Kathryn Edwards, a board member of the Infectious Disease Society of America.
Vaccination of pregnant women during the latter stages of pregnancy is needed to protect young infants, the CDC says.
"I think it is hard to vaccinate pregnant women, because pregnant women have this feeling that they aren't supposed to put anything in their body," Edwards said. While this concern is understandable, studies have revealed that passing immunity from mothers to offspring is very safe, she added.
Half of the time, babies acquire whooping cough from a parent, Edwards revealed. Unfortunately, even health experts fail to recognize the need for adults to be vaccinated. Whooping cough can also make adults very sick, not just children, she said.
"Adults get whooping cough, and they cough and cough," Edwards said. Their cough may last for several weeks, but patients and doctors rule out pertussis without even bothering to check. Booster shot for pertussis must be included whenever adults get their booster for tetanus and diphtheria, she advised.
Related posts from our blog:
No related posts.