Study Ranks Airports Most Likely To Spread A Disease; JFK Tops List
Jul 30th, 2012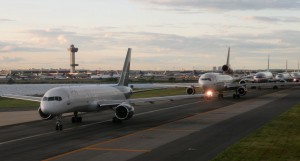 Your airport can be a huge petri dish for diseases. Studies show airports most likely to spread a disease.
A study by the Civil and Environmental Engineering department at the Massachusetts Institute of Technology compared forty major airports across the U.S. to find out which ones are the most likely to play a key role in spreading a disease in their area.
For the study, researchers factored in activities between airports, geographic locations, and passengers' travel patterns and stand-by time.
The study, published in the open access journal PLoS One on July 19, said that the airport's size and activities do not necessarily determine its potential for spreading diseases.
New York's John F. Kennedy International Airport topped the list followed by Los Angeles International Airport. Meanwhile, Honolulu International Airport is at number three, even though its traffic is about 70% less compared to JFK.
The researchers attribute Honolulu's high ranking to its location and its connections to other airports.
Hartsfield-Jackson Atlanta International Airport and O'Hare International Airport in Chicago, though ranked first and second in terms of daily flights, are ranked eighth and sixth respectively. San Francisco International Airport, Newark Liberty International Airport, Dulles International Airport (Washington, D.C), Miami International Airport, and Dallas-Fort Worth Airport round up the list at numbers 4, 5, 7, 9, and 10 respectively.
Air travel plays a huge role in the spread of diseases across continents as what we've seen in SARS and H1N1 virus.
Current models in epidemiology only look at the final stages of an outbreak and the areas hit with high infection rates.
The new model, researchers say, predict the first ten days of the spread of infection. It factors in human travel patterns stating that each traveler has a specific destination instead of jumping randomly from one airport to another.
The authors say that that their methods can be used to help contain an infection in an area and help health officials decide on treatment and vaccination during the early stages of a contagion.
According to the Centers for Disease Control and Prevention, SARS spread to 37 countries and claimed almost 1,000 lives in 2003 while the H1N1 pandemic in 2009 killed more than 280,000 people worldwide.
Source: Vista Health Solutions
Related posts from our blog:
No related posts.