Mercury Exposure During Pregnancy Linked To Child's ADHD
Oct 17th, 2012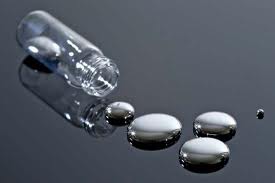 A recent study links women's mercury exposure during pregnancy to increased risk in attention deficit hyperactivity disorder (ADHD) traits in their children. The same study also said that women who ate enough fish had a lower risk of giving birth to children with the disorder.
The study was recently published in the Archives of Pediatrics and Adolescent Medicine.
The causes of the disorder, which affects ten percent of children worldwide, are still unknown. Children with ADHD are characterized as being hyperactive, inattentive, and impulsive.
It's important to note that eating fish during pregnancy is beneficial to the growing fetus. Researchers recommend choosing the right kind of fish to include in pregnant women's diet instead of eliminating it entirely from the diet.
Right now pregnant women are already advised to limit fish consumption because of the potential health risks it poses for the unborn child including brain damage and developmental delays.
However, this presents a paradox for women since eating fish is healthy yet there is concern about fish consumption during pregnancy because of mercury contamination.
"These findings underscore the difficulties pregnant women face when trying to balance the nutritional benefits of fish intake with the potential detriments of low-level mercury exposure," said Dr. Susan Korrick of Brigham and Women's Hospital in a press release.
Women should eat fish during pregnancy but must be aware that high mercury levels in some fish pose a risk, said co-author Sharon Sagiv of Boston University School of Public Health.
For the study, more than 400 women were tested for mercury using hair samples about ten days after giving birth between 1993 and 1998. They also answered a survey to determine their average weekly fish consumption.
Eight years later, children were given standardized tests to assess symptoms of ADHD and scientists found a link between the high levels of mercury and ADHD traits.
Meanwhile, pregnant women who ate two or more servings each week had lower risks of having children with ADHD traits.
The Environmental Protection Agency (EPA) recommends one 12 oz. serving of fish each week.
Pregnant women are advised to refer to their local health department or the EPA to check if the local fish stock in available in their area are safe to eat. Other toxins like lead and PCBs in fish can also cause health problems for unborn children.
There is a higher risk for ADHD behaviors among children whose mothers were found to have higher levels of mercury in their hair. However, having two servings of fish each week during pregnancy is associated with lower risk of ADHD in children.
The bottom line is, fish can help in fetal development, but avoiding fish high in mercury is very important.
Fish high in mercury include tuna, swordfish, king mackerel, and grouper.
Fish with low mercury levels include snapper, trout, salmon, and tilapia.
Source: VISTA Health Solutions
Related posts from our blog:
No related posts.