Health Care Costs Continue to Rise
May 21st, 2012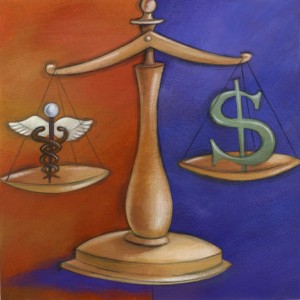 A new study by the HCCI (Health Care Cost Institute) has found that the cost of health care has increased by 3.3 percent in 2010. Health care spending has doubled the rate of inflation.
Health care rates have increased overall inflation for emergency room visits, outpatient surgery and facility-based mental health and substance abuse care from 2009 to 2010.
The average cost of emergency room care  increased by at least 11 percent; inpatient admissions inpatient surgery by   5.1 percent at least 6 percent; outpatient surgery by 9 percent and prescription drugs by 3 percent.
Researchers have discovered that while the costs went up by 3.3 percent in 2010, people have accessed fewer services. This suggests that  health care costs have increased but not because there were a lot of unnecessary medical services. The cost of the services just got more expensive.
"Most of the increase was driven by increases in price," Martin Gaynor, an economist at Carnegie Mellon University in Pittsburgh  said in a telephone interview. "We see utilization falling moderately and the spending is still going up."
HCCI researchers were given access to claims from four major insurers – Kaiser Permanente, UnitedHealth, Aetna and Humana Inc. The study can be found in The 2010 HCCI Health Care Cost and Utilization Report. This report is the first major report that contain information on the health care expenditures by people under 65 years old who are covered under private health plans. HCCI plans to update the information and make it available for further study.
The study showed that the number of employees enrolled in a policy have decreased by one percent and their usage of their health plan benefits have decreased.
The study also suggested that children 18 years old and under has the fastest rising health care costs.
This study is just a first of a series of reports from HCCI focused on health care cost and utilization.
Related posts from our blog:
No related posts.