Drying Clothes Indoors May Cause Health Problems, Study Says
Nov 2nd, 2012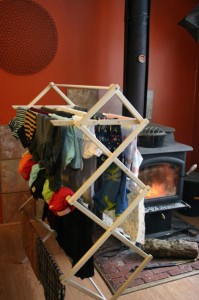 Leaving clothes to dry indoors can cause health problems to people prone to allergies, asthma, and hay fever. According to researchers, the increased air moisture encourages harmful mold growth and dust mites.
Scientists from the Mackintosh Environmental Architecture Research Unit in Glasgow found that 87 percent of households dried their clothes indoors when it gets too cold outdoors. They also found that air in most of these homes was too moist.
Unfortunately, winter is coming up and many won't have much of a choice but to hang their wet clothes inside.
"Going into people's homes, we found they were drying washing in their living rooms, in their bedrooms. Some were literally decorating the house with it, but from just one load of washing two liters of water will be emitted," said Rosalie Menon, researcher and  lecturer of Architectural Technology at Mackintosh.
The study, conducted between September 2011 and May 2012, found that 75 percent of households had moisture levels that could lead to mold spore and dust mite growth. The team also found one particular mold spore known to cause lung infections in 25 percent of the homes they surveyed.
Inside homes, mold commonly grows on floors, wallpaper, window frames, and behind wall tiles. Poorly ventilated houses are especially vulnerable to mold growth and increased air moisture can hasten the process.
Mold can cause serious infection especially on those with weakened immune system. It can also cause allergic reactions, asthma in particular, as the immune system responds to the spores entering the sinuses and airways.
People suffering from mold problems may experience cough, headaches, fatigue, eye and throat itching, skin problems, or nausea.
As most of the houses surveyed do not have proper spaces for drying clothes, researchers recommend incorporating dedicated drying areas into new housing.
"These spaces should be independently heated and ventilated. It's very much going back to the airing cupboards we saw in more historical types of housing," Menon said.
Source: VISTA Health Solutions
Related posts from our blog:
No related posts.