Diabetes Among Children and Teens To Spike , CDC Says
Nov 26th, 2012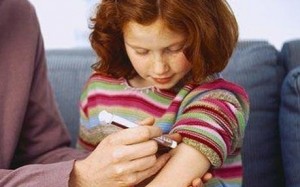 The United States Centers for Disease Control and Prevention (CDC) expects a dramatic rise in diabetes among children and teens in the next four decades.
The spike can cause a potential disaster for the country's health care system, according to one expert.
Assuming a steady rate of increase in diabetes cases over time, the CDC projects that type 1 diabetes may triple and type 2 diabetes could be four times the current numbers over the next forty years.
Even if rates remain constant, type 1 diabetes cases among children and teens will increase 23 percent, while type 2 cases will rise by almost 50 percent over the same time period.
Today, 215,000 or about 0.26 percent of under-20 year olds have diabetes. The projected rise in both type 1 and 2 diabetes will be particularly high among minorities.
"Diabetes is clearly increasing at an unacceptable rate, and while we are doing a whole lot better in terms of treating it, we simply can't keep up," says Dr. Robert E. Ratner, American Diabetes Association Chief Scientific and Medical Officer. "The simple fact is we are losing the battle by not preventing this disease."
Twenty years ago, type 2 diabetes was almost non-existent among children, but has since increased along with the rise in childhood obesity, Dr. Ratner says.
Health policies that address childhood obesity problems could have a positive impact on the future of type 2 diabetes, Dr. Ratner wrote in an editorial with the CDC report published in the journal Diabetes Care.
Type 1 diabetes on the rise
There is no link between type 1 diabetes and obesity; and little is known about preventing it.
It is still unclear why type 1 diabetes cases are rising, says Dr. Sharon Saydah, PhD, CDC Division of Diabetes Translation. She adds that historically, the disease has been associated with whites in the U.S., but a new trend is emerging.
Based on the current rates, 45 percent of children diagnosed with type 1 diabetes will be from minority populations by 2050.
The report emphasized the importance of these children having access to quality health care.
The health care system could be overwhelmed by the cost of delivering services to children and teens with diabetes if the worst case scenario becomes a reality. Medical expenditures among those with diabetes could be at least six times higher compared to those without the disease.
Source: VISTA Health Solutions
Related posts from our blog:
No related posts.