Detergent Pods Poisoning Hazards For Kids
Jul 9th, 2012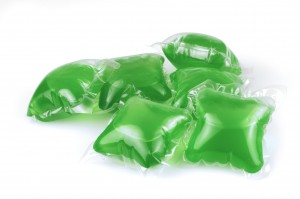 The number of children  poisoned by new colorful detergent packets or pods continues to rise despite warnings from authorities.
Companies introduced detergent packets to make laundry time easier. In March, isolated cases of children swallowing these brightly colored-products were reported by poison control centers across the country.
Laundry packets can be conveniently dropped into washing machines, but because of their candy-looking profile, small children have been eating them.
Authorities started warning the public about this problem three months ago. Still, more cases were reported, and by late May, the number reached 250. This caught the media's attention, and Tide, which makes one of these products, announced that they will modify their products to make them child-proof.
Despite the efforts, poison control centers say the number of detergent pods poisoning continues to rise. In California, nine new cases of children swallowing the product were reported during the weekend.
Poison centers nationwide are reporting an average of 10 cases a day, said Bruce Ruck, assistant director of the New Jersey Poison Information and Education System. So far this year, poison control centers received 1,210 cases. There were no reported fatalities, but there were some very serious cases.
Experts are still wondering why some cases have been very serious. These products seem more toxic compared with powder and liquid detergent. Patients suffered from severe nausea and vomiting, respiratory problems, and metabolic abnormalities.
"The regular detergents that have been around forever don't appear to cause the same problems, and we don't know why," Dr. Ruck said. "We don't know yet what's different about them. They've only been on the market a short period of time."
"One of the things we're trying to get across to parents is to not just put these up high, but to put them up very high in a locked cabinet," Dr. Ruck advised. "You don't want to store these on top of the washing machine or dryer, because kids will stand on chairs to get stuff. Children will find a way to get into everything."
Related posts from our blog:
No related posts.