Breast Size Linked To Breast Cancer Risk, Study Says
Jul 23rd, 2012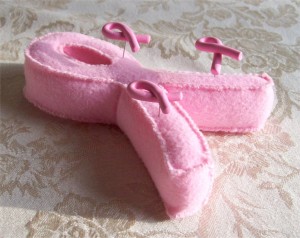 A larger breast size is linked to increased risk of breast cancer, a new study has found.
The study, published online in BMC Medical Genetics, used data from California-based genetics company 23andMe. Researchers sent out survey questions to more than 16,000 women and asked them about their bra cup and band sizes and compared them to genetic data on mutations.
Researchers identified seven genetic determinants for breast size, three of which are associated with mutations linked to breast cancer.
The underlying factor for the link could all boil down to estrogen, the female sex hormone that influences mammary gland growth and tumors.
"One of the variants is known to regulate the expression of the estrogen receptor gene which plays a vital role in breast growth and in the majority of breast cancer cases," said Dr. Nicholas Eriksson, lead author and principal scientist at 23andMe. "Another one of these mutations is located in a region of the genome that often shows abnormalities in people with a certain subtype of breast cancer."
The study points out the role of genes in women's breast sizes. Researchers were surprised to discover the link between the genetics of breast size and the genetics of breast cancer.
"We specifically asked about bra cup size as an approximation for breast size using a 10-point scale ranging from 'Smaller than AAA' to 'Larger than DDD,'" Eriksson said. "Most of the genetic factors we identified for breast size lie in regions of great importance for breast cancer."
The study did not establish a direct link between breast size and breast cancer. However, researchers say that it may offer answers to questions about the role of breast structures on breast cancer risk.
"Although the connections between these genetic factors – breast size and breast cancer aren't fully understood – our findings give clues to the function of some of these genes and regions that might be useful in combating breast cancer," Eriksson said.
Related posts from our blog:
No related posts.