American Kids Eat Too Much Salt
Sep 21st, 2012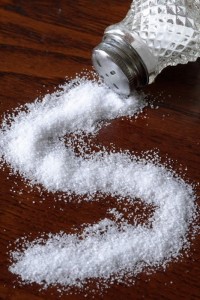 A recent study has found American kids eat too much salt, just like adults do . Experts are concerned about the consequences of too much salt which can lead to high blood pressure even in kids. Researchers added that the effects are even greater in overweight children.
The U.S. Centers for Disease Control and Prevention (CDC) published the new findings in the online journal Pediatrics on Monday.
While previous studies among adults indicated similar results, very little research has been done concerning salt intake, weight, and blood pressure among children.
The study involved 6,200 children aged 8 to 18 during the 2003 to 2008 national health surveys. Researchers calculated the children's salt intake by interview over several days.
The Result
Around 15 percent of the participants had hypertension or prehypertension (slightly elevated blood pressure).
Hypertension and prehypertension in children younger than 17 were based on age, height, and gender.
Among 18 years and above, prehypertension is defined as having readings between 120 over 80 and 140 over 90 while high blood pressure is having a reading of 140 over 90 and above.
Salt consumption played a major role in elevating blood pressure as those who consumed the most salt doubled their risk of having elevated blood pressure. Moreover, overweight children had more than three times the risk.
The recommended daily salt intake for children and adults alike should not exceed 2,300 milligrams, or 1 teaspoon. The study participants consumed an average of 3,300 milligrams a day.
Researchers still do not fully understand why overweight kids are more sensitive to salt. They suspect obesity-related metabolic changes. Previous studies have indicated that children with elevated blood pressure may develop high blood pressure in adulthood and may lead to premature heart disease.
Related posts from our blog:
No related posts.