Alcoholics Die Earlier Than Smokers, Study Says
Oct 25th, 2012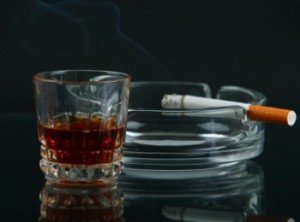 A recent study suggests alcoholics die earlier than smokers. Alcohol-dependent individuals, especially women, may lead even shorter lives compared to smokers.
Researchers from Germany found that among alcohol-dependents, the mortality rates were 1.9 times higher in men and 4.6 times higher in women, compared with the general population.
For the study, published online in the journal Alcoholism: Clinical & Experimental Research, researchers gathered data on more than 4,000 participants who were observed for 14 years.
There were 153 alcohol-dependents were identified in the group.
"First, we found that annualized death rates were 4.6-fold higher for females and 1.9-fold higher for males compared to the age- and gender-specific general population," said team leader Ulrich John, professor of epidemiology and social medicine at the University of Greifswald.
"Second, we found that the mean age at death was 60 for females and 58 for males, both of which are about 20 years lower than the mean age at death among the general population," John said. "None of those deceased had reached the age of life expectancy."
"Third, having participated in inpatient alcohol-dependent treatment was not related with longer survival compared to not having taken part in treatment, meaning that it did not seem to have a sufficient protective effect against premature death," he added.
Drinking apparently is a bigger contributor to premature death compared to other risk factors, like smoking, researchers observed.
Most deaths from smoking are caused by cancers, which usually arise later in life. Meanwhile, alcohol-related deaths occur earlier, John noted. Drinking can also lead to other risk factors like smoking and obesity, he added.
While the study showed an association between alcohol-dependency and premature death, it did not establish a cause-and-effect relationship.
Source: VISTA Health Solutions
Related posts from our blog:
No related posts.