Top 5 Ways to Lose Weight While You're Stuck at the Office
Sep 19th, 2012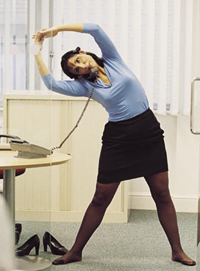 For most Americans, working at the office means eight hours of being stuck in a chair. If you want to lose weight, a desk job may not be the perfect environment for you unless you get creative. Office workers who want to lose weight need to find ways to eat right, stay active, and get motivated within the confines of their work place. Here are some ways you can add to your weight loss routine when you spend many hours at the office.
#5  Let Others Know What Your Plans Are
If you're planning to lose some weight, it is important to let friends and family know what your plans are. You spend several hours with them each day and they will gladly help you reach your goals. Let them know what your intentions are and tell them that you would appreciate it if they did not offer you high-calorie food during the day.
#4  Change Eating Habits at Work
Eating healthy is a challenge when you're at the office. You can easily be tempted to order fattening lunches, munch on junk food, partake in a coworker's birthday cake, and consume sugar-rich drinks. You need to avoid unhealthy food if you want to lose extra weight. Eat healthier at the office by making a weekly meal plan.
Learn to prepare healthier meals which include complex carbohydrates, fruits, vegetables, and lean meat. If you fail to prepare your meal for the day, consult your meal plan and get a similar healthy meal. Keep healthy emergency snacks at your desk and bring fresh fruits along with you so you will likely make healthier choices more often.
Stop mindless nibbling of high calorie snacks. Clear out your desk drawers and remove candy bars, cookies, and other sweets. Steer clear of the office vending machine to keep your calorie consumption down.
#3  Stay Hydrated
Keep a refillable water bottle handy at your desk. Don't let dehydration and faux hunger pangs ruin your diet plan. Staying hydrated is important to keep body fatigue at bay. This can help you stay active while you're working. As an added bonus, you can burn more calories each time you get up and refill your empty bottle.
#2  Office Exercises
Office workers often use lunchtime and breaks to pour in extra work. You should avoid this unhealthy habit by all means; there are more important things than work, like your health for example. You can go outside and take walks or even jog during your breaks. Burn more calories by taking the last two flights of stairs to your floor instead of using the elevator all the way through, personally deliver messages to other employees instead of sending them emails, and you can also stand up and walk around while you're taking calls. Ask your boss if you can bring a set of hand weights to the office for some down time weight lifting.
#1  Motivation
When you start with a weight loss program, motivation can come and go easily. Your office can be a source of motivation for your journey towards a healthier weight. You can enlist interested co-workers to join in weight loss activities, ask your employer for gym membership discounts, and formulate a collective goal with your co-workers.
Many fitness gyms offer corporate discounts, you should check out the programs and rates they offer. Some companies offer further incentives for employees who lead a healthy lifestyle such as lower health insurance rates.
Conclusion
Being stuck in the office doesn't mean you can let go of your weight loss goals. It may be challenging at the first, but the key is finding creative ways to eat right, burn calories, and keep motivated.
Related posts from our blog:
No related posts.