Today's A Good Day To Quit Smoking!
May 30th, 2012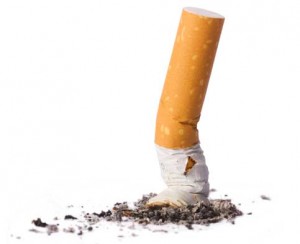 On May 31st we celebrate World No Tobacco Day. During this day, we turn our attention to the ill effects of tobacco use and promote tobacco abstinence. Tobacco use is the number one cause of preventable deaths. Six million people die from tobacco use annually.
Abstaining from tobacco use for one day won't do anything to improve your health. But this is a good day to start thinking about kicking the habit for good. The following are tips to help you quit smoking.
1. Set a quit date. Mark the exact date on your calendar and stick to your schedule. The sooner you quit, the better. Prepare yourself for this day. Dispose of your ashtrays, lighter, and other things that remind of smoking. You can also try smoking a different brand a few days before the date to make smoking more uncomfortable. List the reasons why you want to kick the habit and keep them with you as a reminder.
2. Notify your family, friends, and co-workers about your plan to quit smoking. Ask for their support, you'll be surprised with how many of them are willing to help you kick the habit. Inform smokers not to offer you any cigarette or smoke anywhere near you.
3. Limit your consumption of coffee, tea, or other caffeinated drinks. Flushing out nicotine toxins will take about three days. Satisfy your craving by drinking fruit juice or eating fresh fruit. This will help you maintain a healthy sugar level to prevent mood swings. Start exercising to improve your lungs' health.
4. Prepare for instances when you'll be tempted to smoke, like parties and smoke breaks. Try to avoid them entirely during the first couple of weeks or until you feel you are ready to face those moments.
5. Keep your mouth fresh at all times. Chewing sugarless minty gum can be helpful. Stay hydrated throughout the day to keep cravings at bay.
6. When you start to crave, remember the 4 D's:
Delay: Cravings will only last for several minutes at most. Don't give in to the temptation and your urge to smoke will go away. The longer you quit the easier it gets as cravings become less frequent.
Deep breathe: Relaxation will bring you to a different state of mind and help you focus on something else.
Drink water: Fluids will help flush out nicotine from your system.
Diversion: Look to do something else when you find the urge of smoking overwhelming. You can read a book, go for a stroll, or even exercise. Grab a pen to substitute the need to hold a cigarette.
7. List the medical and financial benefits you'll get when you finally get rid of smoking. This will come in handy when you find yourself losing motivation to go on. It's good to know that you will be cutting your risk for coronary heart disease, heart attack, and stroke by more than half after a year of quitting.
Related posts from our blog:
No related posts.