Protect your Heart!
Sep 7th, 2012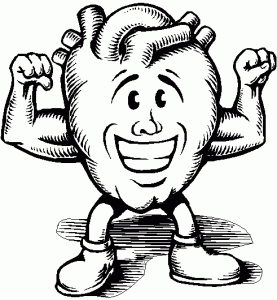 Heart disease is the number one cause of death among men and women in the United States. In 2010 alone, it cost the nation more than $310 billion in health care and lost working hours, according to the Centers for Disease Control and Prevention (CDC). Heart disease affects most ethnic groups in the country, that's why maintaining a healthy heart is everybody's concern. Fortunately, risk factors associated with the disease can be controlled or even reduced and we can do something to protect ourselves against it.
Get moving
A sedentary lifestyle is the highest risk factor for heart disease, says the CDC. If you spend most of your waking hours sitting in the office or on the couch, you have no choice but force yourself up and start moving. Regular exercise has many benefits including:
improved heart health
reduced heart disease risk factors
improved cardiovascular system efficiency
improved overall strength and well-being
You need to be consistent with your exercise regimen to get the best results. The American Heart Association (AHA) recommends a minimum of thirty minutes of moderate exercise three to five days a week depending on your physical condition.
If you are not in the best shape, begin with a five-minute warm-up, followed by a conditioning phase. Gradually increase frequency, time, and intensity of your exercise until you reach the optimum 30 to 40 minutes.
Don't forget to cool down after every exercise. Cooling down lets your body go back to its normal resting blood pressure and heart rate. At the end of each session, reduce your exercise intensity with a five-minute low intensity walking and stretching regimen. Consult your health care provider before starting any exercise program.
Eat healthier
Another major risk factor for heart disease is obesity. In the U.S., more than thirty percent of heart disease patients are obese.
Saturated fat should not make up more than 7 percent of your total daily calorie intake, trans fat should be less than 1 percent, and cholesterol should be less than 300 milligrams. A diet high in saturated and trans fats can lead to arterial plaque buildup causing heart attack and stroke. Include good fat in your diet such as olive oil, canola oil, and polyunsaturated fats.
Other healthy food options include lean meat and fish; fruits and vegetables; whole grain bread and pasta; and low-fat milk. Keep your daily salt intake to less than 1,500 mg.
Quit Smoking
Whether you smoke or inhale smoke from other people's cigarettes you increase your risk for developing heart disease. Smoking can cause atherosclerosis or the buildup of fatty substance in the arteries. When arteries get completely blocked by this buildup, a heart attack may occur.
According to the U.S. Surgeon General, the risk of heart disease is reduced to half that of a smoker one year after you quit smoking, your risk for stroke is the same with a nonsmoker after 5 to 15 years, and the risk for coronary artery disease is the same with a nonsmoker after 15 years.
Source: Vista Health Solutions
Related posts from our blog:
No related posts.