Minimize Barbecue Risks
Jul 23rd, 2012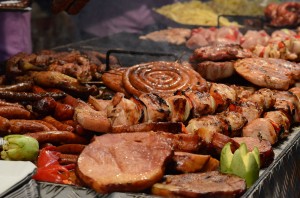 Almost all of us enjoy a good barbecue especially during the summer. We love preparing and eating grilled food whether it's burger, chicken, or ribs. However, these foods may be high in fat, salt, sugar. The grilling process can also add carcinogenic substances to the food. Here are some tips to reduce barbecue risks.
Go Low-Fat When Possible
Red meat is the star in barbecues. Unfortunately, it is high in saturated fat. Use healthier substitutes like ground turkey instead of beef for burgers. Ground turkey can also be added to beans for a low-fat chili. You can also reduce fat by removing the skin off of turkey and chicken before grilling. Add vegetables and use low-fat barbecue sauce to cut down your fat consumption. For your salads and coleslaw, use low-fat mayo and milk. Replace your high-fat dips with low-fat sour cream and spices. You can also use sliced vegetables instead of the regular chips. You can also try grilled fish to cut your fat consumption further.
Keep Sodium in Check
Sodium can be a problem especially for individuals with hypertension. You can cut down on your sodium intake by using sea salt instead of table salt. You can also make your own low-sodium versions of salad dressing, barbecue sauce, and spice rubs. For salad dressings, combine olive oil, lemon juice, vinegar, and dried herbs. A low sodium barbecue sauce can be made by mixing low-sodium ketchup, apple cider vinegar, brown sugar, spices, and sea salt. Spice rubs can easily be made with sea salt, paprika, black pepper, sugar, and garlic powder.
Cut the Carcinogens
Carcinogenic substances known as heterocyclic amines or HCAs are produced when animal proteins are grilled. These compounds have been found to cause tumors in laboratory testing. The best way to avoid carcinogens from barbecues is to stick with grilling vegetables. But where's the fun in that? To reduce carcinogens in meat, you can marinate them before grilling. If you do not want to marinate your meat, you can cook them at low temperature, turn them over often, and remove the black pieces before eating.
Add Nutrients
Serve nutritious barbecue food by offering vegetable and fruit dishes. We all know that these options are loaded with vitamins and minerals. Serve your guests grilled fruit and vegetables, green salads. Make them even healthier by using low-fat or fat-free ingredients.
Related posts from our blog:
No related posts.