Keep A Healthy Heart With These Food Choices
Feb 14th, 2012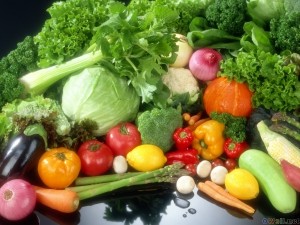 When you want to eat healthier food good health, the first step is to choose foods for your heart's health. Our heart keeps us moving by delivering oxygen, nutrients, and antibodies throughout the body. Cardiovascular disease also leads the list of top killer diseases in the U.S.
There are several foods we can eat to help give us a healthy heart and cardiovascular system. The best choice you can pick are certified organic whole foods.
Foods for a healthier heart
Asparagus
This is an extremely healthy vegetable. Important nutrients found on asparagus are folic acid, vitamins A and C, folic acid, and potassium. Eat it lightly steamed in butter and lemon with garlic and a little bit of salt.
Blueberries
These are one of the most powerful, disease-fighting foods. The powerful antioxidant anthocyanins, which gives them their dark blue color is packed with soluble fiber and vitamin C.
Broccoli
Best eaten raw or slightly steamed, this green veggie is rich in vitamins C and E, fiber, folate, calcium, and beta-carotene. It is also a healthy source of co-enzyme Q10, important for heart and muscle health.
Cayenne Pepper
The "king of herbs" is full of antioxidants and valuable compounds help keep the heart and arteries healthy. Many herbalist consider this herb more powerful than any other.
Flaxseed
This contains loads of fiber, omega 3s, and other nutritious substances. Flaxseed is not normally eaten by itself, it goes well as a salad topper, in cereal, cookies, and muffins.
Garlic
A commonly used ingredient, the substances found in garlic help maintain healthy blood pressure, cholesterol levels, and help prevent atherosclerosis. It is healthiest when freshly crushed, or in garlic oil form.
Legumes
These foods are rich in protein and contain very little fat. Legumes are full of calcium, fiber, iron, and potassium.
Nuts
Another wonderful source of healthy proteins, vitamins, minerals, and monounsaturated fats. Monounsaturated fats increase good cholesterol and delivers bad cholesterol to the liver, where it is processed to be eliminated.
Oats
Referred to as "roughage" by some people, we need to consume more of this everyday. Oats is an excellent way to get it. It is an excellent source of fiber, as well as vitamins and minerals.
Salmon
This fish is full of omega-3 fatty acids which is healthy for your heart. It is also an excellent source of protein. Other fish packed with omega-3 are herring, mackerel, pollock, swordfish, and tuna.
Spinach
This nutritious vegetable contain many compounds healthy for the heart like betaine, calcium, folate, and potassium. This is also an excellent source of co-enzyme Q10.
Related posts from our blog:
No related posts.