Health Options for the Uninsured
Oct 11th, 2012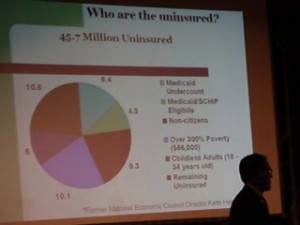 There's no need to panic even if you're uninsured because you've lost your job. You need to take steps to regain your health coverage and you still have your rights. If health insurance is too expensive for you, it's important to know the following health options for the uninsured:
Do not rely on emergency rooms.
If you're sick or injured, emergency rooms may be legally obligated to stabilize your condition if they accept Medicare funds. But you should expect to be billed afterward. They may even charge a higher price and be aggressive about payment collection.
Find out if you are qualified for a public program.
Find out if you or your children can qualify for government-sponsored health insurance like Medicaid or Children's Health Insurance Program (CHIP). These programs have lower rates and eligibility varies state by state.
Visit community health centers.
There are thousands of community health centers spread all over the country. They offer basic outpatient care which may include dental and mental health services. These facilities may charge according to the individual's financial capabilities.
Ask doctors for discount.
In most cases, only the uninsured pay the full price for medical services since they don't have the benefit of discounts that health insurers negotiate for on behalf of their members. Fortunately, many doctors offer discounts to uninsured patients, especially for those who pay upfront. Ask your doctors prior to receiving treatment.
Compare prescription drug prices.
Those who require prescription medicine sometimes pay more because they fail to compare prices to get a better deal. They might also make the mistake of taking expensive brand-name drugs when they could get similar results with cheaper generic drugs.
Join health fairs.
Community groups often organize health fairs that offer free screenings for conditions like diabetes, high blood pressure, and high cholesterol. Dental and vision services may also be available.
Find disease-specific programs.
There are several programs specifically created to address specific diseases. You may need to look for them and follow specific rules. For example, Breast and Cervical Cancer Treatment Program offers coverage for low-income women.
Look for free or discounted hospital care.
Many facilities offer programs for those who are seeking financial assistance. However, it might be challenging to look for them. Provisions included in the Affordable Care Act offer help to uninsured or under-insured patients who cannot pay for hospital services on their own. According to the law, all nonprofit hospitals must create their policies regarding financial assistance and this information must be made available to the public.
Related posts from our blog:
No related posts.