Get Back In Shape For Summer- The RIGHT Way
May 11th, 2012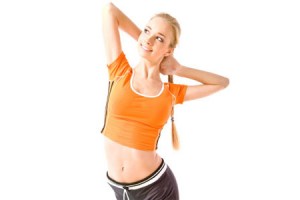 Summer is right around the corner- are you still carrying around your holiday weight? Getting your body ready for the beach will take a lot of hard work and dedication. There are no shortcuts. There is no wonder drug that can bring you optimum health and fitness.
Depriving yourself of your favorite food and drink is not the answer. The balance between the calories you consume and the calories you burn through exercise is the key to maintain ideal weight and active lifestyle. Many of us have a hard time losing those extra pounds even with regular exercise. The culprit might be what we consume before, during, and after our workout.
Success can be achieved with the proper knowledge, tools, and motivation. Here are some tips to help you get back in shape and get started:
Eat before and after workouts. An energy bar or a piece of fruit thirty minutes before a workout can give you the extra boost your body needs. It is ideal to eat within one hour after your workout. During this time, the body is primed to receive the nutrients it needs. If you can't get a full meal after a workout, you can bring a lean meat or tuna sandwich and an apple along with you.
Hydrate. Proper hydration is important especially during  exercise. It promotes safety, comfort, and performance. It doesn't matter whether you prefer water, sports drink, or even those beverages with added caffeine. Some studies even show that caffeinated drinks can actually supercharge your body before a workout.
Don't deprive yourself. We all know that a healthy diet is necessary to get the body you always wanted. Fortunately, you don't need to give up your favorites. You can still have the occasional burger, nachos, soda, and other food and beverages you love in moderation. However, you need to get out there and try healthier alternatives to engage your palate.
Be creative. The gym is not the only place you can exercise. You can do it on the beach, at the park, or even on your garden. You can even burn some calories while you're in the office: walk up to talk to an office mate instead of sending an email, stand up a couple of minutes every hour to increase your heart rate, step out of the elevator two floors below your office and use the stairs the rest of the way, take every opportunity to burn those extra calories you put in.
Listen to music. Your favorite music can help motivate you to perform better during exercises. Update your playlist to include uptempo songs you can move to. Studies have shown that music can increase endurance by as much as fifteen percent.
Additional Tip: Some health insurance companies offer discounts for gym membership and/or health and fitness tips and newsletters- contact your health insurance company today to find out what they offer!
Related posts from our blog:
No related posts.