Don't Mess Up Your Diet on Weekends
Oct 19th, 2012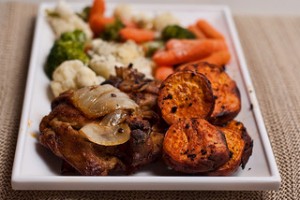 Weekends can ruin your diet plan if you fail to set proper guidelines. If you don't pay close attention, you'll end up throwing the fitness gains you've made throughout the week out the window. Don't let your off days make you gain unwanted pounds. Here are some tips to help you find the balance between enjoying and keeping your diet on weekends.
If you plan to stay at home
Remember to weigh yourself on Saturday morning and again on Monday morning. People who keep track of their weight tend to take better control of it.
Having a variety of food is important to your diet. But snacks are a different thing. To avoid overeating, stick to one healthy choice for your snack each time. Options include yogurt, almonds, and fruits.
If you plan to catch up with your favorite show, don't bring food in front of the TV. You can easily lose track of your diet when food is right in front of you.
If you plan to eat out
Set a calorie limit when eating outside. Don't waste your calorie count on mundane foods like French fries and bread rolls. Save them for your favorite menu items you rarely get to eat.
If you must drink, have a drink with your meal. Drinking before meals can ruin your diet plan as you will likely crave and indulge on something unhealthy.
If you plan to party
Have a day or two of longer workout exercises to cancel out the calories you'll likely consume.
Modify your typical weekly workout routine to include fat-burning cardio exercises like swimming and cross-training. You can also join sports like football or basketball.
Have a healthy breakfast to get your metabolism going early on. Eating breakfast regularly helps your body burn calories more efficiently making it easier to control weight.
If you plan to hit the bars
Eat a full meal before going on a night out. This will help you avoid unhealthy and high-calorie food items bars serve.
Set your budget. When you limit your spending, you'll also limit your calorie intake. Alternate your drinks with water to consume less alcohol and stay within your goals.
Avoid mixed drinks. They can have as much as 500 calories per serving. Choose light beer or wine instead. If you can't avoid liquors, choose drinks that use low-calorie mixes.
Get enough rest. You can easily overeat and screw up your metabolism if you get very little rest.
Source: VISTA Health Solutions
Related posts from our blog:
No related posts.