Cyberchondria: The Problem With Online Self-Diagnosis
Feb 7th, 2012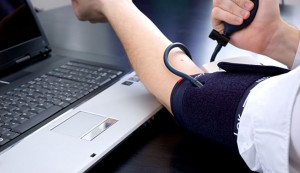 Patients used to visit their doctor's office with symptoms, questions, and concerns.
Now, we are seeing an increasing number of people arriving with their own diagnoses of illnesses they don't even experience. This condition is known as cyberchondria, a baseless anxiety about one's wellness caused by visiting health and medical websites from an online self-diagnosis. This phenomenon has been on the rise and is spreading like the flu.
Doctors however, are not surprised with the rise in the number of cyberchondria cases, considering how people have been using the internet to find health information. According to a 2010 survey conducted by the Pew Research Center and American Life Project, 8 out of 10 Americans use the internet to look for health information.
In their 2008 paper for Microsoft, Eric Horvitz and Ryen White, coined the term cyberchondria, when their survey of 515 individuals' health-related online search behavior showed a disturbing trend. "We studied how people with common symptoms can escalate their online searches into the review of more serious and rare conditions," according to White and Horvitz. "Results show that searching the web has the potential to elevate health concerns."
Almost nine out of ten respondents has experienced at least one instance in which an online search for common symptoms led them to the review of content on more serious illness.
The rise in cyberchondria comes at a time when physicians are advising their patients to take a more active role in dealing with their medical concerns to improve health outcomes, especially for chronic illnesses.
Some health professionals believe that reading about medical concerns on dependable websites can be a positive experience for patients. The information they get can help them deal with their illnesses. In some cases, patients hit the mark and diagnose themselves correctly, especially if it involves common illnesses like the common cold.
However, in most cases, patients are misled into thinking that they have a medical problem, brought about by their online searches. This results to increased patient anxiety and unwarranted diagnostic tests that may lead to medical complications. Cyberchondria also leads to physicians spending more hours in office visits as they will need more time to dispel patients worries, educate them properly, and determine the patient's real condition.
"Self-diagnosis is inevitable in this age," according to Dr. Kit C. Lee, a professor of Loyola University Chicago Stritch School of Medicine. "Physicians should approach this as educators and listen to the patients' concerns and discuss their symptoms thoroughly."
"It can lead to spending a longer time than a standard visit, but we have to take that extra step in order to provide better quality health care," he added.
Related posts from our blog:
No related posts.