Anti-Smoking Drug Shows Potential Against Alcohol Abuse
Feb 16th, 2012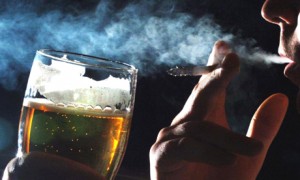 A popular drug designed to help patients quit smoking also significantly reduced the amount of alcohol consumed by a heavy drinker, a new study found.
According to researchers from the Yale School of Medicine, heavy-drinking smokers are less likely to grab a drink after taking the anti-smoking drug varenicline compared to the placebo group.
The new study is published in the Biological Psychiatry online journal.
Varenicline is a quit-smoking aid marketed under the name Chantix. During research, the group taking this drug reported lesser cravings for alcohol and felt less intoxicated if they had a drink. The study also found that they are likely to remain abstinent after being offered drinks compared to the group who received the placebo.
Furthermore, the study also recorded no adverse effects when varenicline was combined with alcohol consumption at the doses studied. When varenicline was combined with low doses of alcohol, no changes in blood pressure or heart rate were recorded, nor did it produce any sign of nausea or dizziness.
"The results suggest a promising future for the drug," said Sherry McKee, lead author and associate professor of psychiatry at the Yale School of Medicine. "This might be a springboard for future clinical trials of varenicline as a treatment for alcohol use disorders, and as a dual treatment for alcohol and tobacco use disorders.
It is more likely for smokers to drink alcohol and to consume larger quantities of it. They are also four times more likely to abuse alcohol compared to non-smokers.  Tobacco-related diseases are the leading causes of death among alcoholics.
"It is possible that this drug targets common biological systems in alcohol and nicotine use," according to McKee. "This can be a potential treatment for those who have both disorders."
The study shows that about 80 percent of the group taking varenicline abstained from drinking, compared to 30 percent of the placebo group. The findings show that varenicline has the potential to reduce alcohol consumption just as effective as naltrexone, a drug used to primarily treat alcohol and opioid abuse. Compared to naltrexone, varenicline may be safer to use since it is not metabolized in the liver, according to McKee.
Related posts from our blog:
No related posts.