1 Million More New Yorkers to Join Medicaid
Nov 23rd, 2011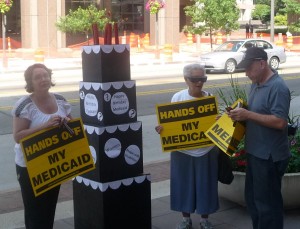 NY Post reports that in line with the health care reform, 24% more New York residents will join the Medicaid system. As of now, there are already 5 million residents in the program. If you add the 24%, membership will increase to 6 million.
Right now there are many residents who are eligible for coverage under the Medicaid program but they don't sign up. However if the mandate that all Americans enroll in a health insurance plan or be penalized will be implemented, these people will be compelled to sign up for Medicaid.
Governor Cuomo has said that by the end of 2015 an increase of 24.4 percent from the Fiscal Year 2011 caseload of 4.8 million. As of now Albany spends $21.1 billion on the program's expenses. In 2014, it is projected to reach $23.9 billion. But according to state officials the state can still afford the additional members because the federal government will fund 90% of the medical costs of the new enrollees. Morris Peters, the Governor's spokesman said "The federal government is reimbursing the state for most of the costs. Because of the enhanced reimbursement from the feds, it doesn't have a financial hit on the state budget."
But not all state officials share the same perspective. For State Sen. Martin Golden the increase in membership means a significant increase in medical costs. "We have a $53 billion Medicaid budget including the federal contribution, and we're adding 1 million people? Who's going to pay? The taxpayers.'' he said.
Governor Cuomo's aim is universal coverage for all New York residents. Getting 1 million more residents into Medicaid will get the state closer to this goal however curbing the costs to fit state budget will be a steep endeavor.
Healthy NY, another health insurance program subsidized by the state is curbing costs on claims by eliminating their most popular plan design – HMOs. By January 2012 only HDHP plans will be left available for new members.
New York might be successful in enrolling as much residents as possible but the quality of coverage they will be receiving is not guaranteed. Having a New York health insurance coverage doesn't guarantee access to health care whenever needed.
Related posts from our blog:
No related posts.