New York Health Insurance for HIV Patients
Aug 19th, 2011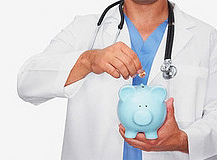 According to the United States HIV and AIDS statistics summary, more than 1 million Americans are living with Human Immunodeficiency Virus (HIV). HIV is not limited to adults. In 2008, there were 4,043 children reported with HIV.
HIV is a virus that attacks the immune system and unlike other viruses our immune system cannot fight them. It is instead used by the HIV to propagate itself and destroy the immune system. When this happens, individuals with HIV succumb to  Acquired Immuno Deficiency Syndrome (AIDS). When you have AIDS this means that your immune system is badly damaged and this makes you susceptible to infections. Since your immune system can no longer serve its purpose, the infection can lead to death.
A person diagnosed with HIV is in need of constant medical care to monitor their health condition. This will be very expensive if you do not have an inexpensive health insurance coverage. The New York health insurance department has a program focused on helping low-income residents diagnosed with HIV. The HIV Special Needs Plan (HIV SNP) gives Medicaid coverage to individuals with HIV including their children up to age 19.
To be eligible for this program you just need to be a Medicaid member with a positive diagnosis for HIV. HIV SNP members choose their primary care physician who directs you to specialists and health care physicians within their organization. All of the health care providers are well-trained to treat HIV and AIDS cases.
The benefit services you an expect from this New York health insurance program are the following:
Regular doctor visits
Hospital inpatient care
Outpatient services
Emergency room care services
Prescription drugs
Specialist care
Home health care
Nursing home care
Dental care
Prenatal care
Smoking cessation agents
Medical supplies and equipment
How to enroll in HIV SNP?
Get in touch with New York Medicaid Choice CHOICE HelpLine counselors at 1-800-505-5678 to ask about the program and to know who are the providers in your area and to enroll.
Don't worry about privacy. The information you share will be kept confidential.
Related posts from our blog:
No related posts.