Under Sixty-Five and Disabled
Jun 14th, 2010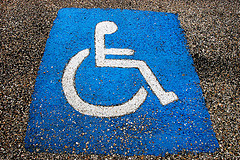 Where do you turn when you find yourself disabled and no longer able to hold down employment? Whether you became disabled because of an accident or a life-long illness that has finally taken its toll, can you apply for Medicare health care services even though you have not reached the age of sixty-five?
Well, you do have the opportunity to apply, especially since you now are diagnosed with a long-term disability, but be prepared to wait for a very long time before you even receive your first response. The health insurance industry is very aware of how the procedure works and time is not on the side of the individual. There are requirements before you decide to enroll.
1.    Your medical condition must completely prevent you from any substantial employment
2.    The diagnoses from your health care provider must state this disability will continue for six months or longer
This is not something that will be quickly resolved, especially when you are under sixty-five years of age, but if you are willing to be patient and fight your way through the system, you will reach your attainable goal. This becomes more evident when it involves very specific permanent diseases and health care disorders such as:
1.    Neurological disorders
2.    Multiple body disorders such as Multiple Sclerosis
3.    Genetic urinary disorders such as Kidney failure
Many of the individuals who find they are facing this type of decision for the sake of salvation will also need to discuss this with the health care medical physician because they are the keeper of your medical records. You can request a copy of all health care medical records to keep all your information in one place, in chronological order.
This is just another way for you to be able to present a good case inclusive of the health insurance provider who may be requesting this information. The more current and accurate your medical information is, the faster you will reach your intended goal. Otherwise, you could be in for a two-year battle and that will only make life more difficult.
Regardless of how well you keep your health care medical records this will be one of the most difficult and demanding times in your life. The health insurance providers will seem as though they are dragging this on longer that it needs to be, but that is a matter of perception. You on the other hand are focusing on achieving your goal of successful health care assistance when you need it most.
Related posts from our blog:
No related posts.