Issues Facing Underinsured
May 25th, 2010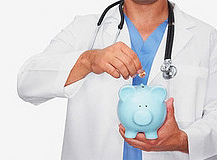 There is so much verbiage discussing the pros and cons of the underinsured and the uninsured, but there is still a difference between the two types of individuals. The most prominent difference is those who are underinsured have health insurance coverage while those who are uninsured do not.  To define what underinsured means in every day terms among the health care industry, there are three main issues.
1.    Medical payments total over ten percent of an individuals income
2.    The individuals annual income remains below the standard poverty level
3.    The health insurance deductible amounts to more money than the individual can pay at any one time
There is a reason why so many within the population are underinsured or uninsured and much of this has to do with the perpetual rising health care costs. More individuals are requesting medical help in one form or another crowding the medical physician's office and spending long hours waiting in a hospital emergency room.
Many individuals who find the emergency room is the only alternative for health care are not there only because they have no means of adequate health insurance coverage. There are times, rare; as they may be that, a medical physician will refer the potential patient to the hospital emergency room simply because the medical physician lacks the proper equipment to help the individual.
It really is a shame that more than one third of the total population lacks adequate health insurance, which reduces the quality of health care they will receive when they finally are granted medical assistance. Part of the difficulty is the more individuals who lose their employment find they are in a bit of a bind.
If they are fortunate they will continue to have health insurance for another thirty days, but after the thirty day's they will have nothing. Searching around these individuals will try to find the most affordable health insurance possible that will fit into their new monthly budget, but that does not occur often.
The new low cost health insurance they were able to purchase is nothing in comparison to what they had, but it is better than not having anything.  There are some individuals who will opt for a low cost health insurance policy that is temporary instead.
However, with the climbing health care costs these same individuals have now joined the ranks of the underinsured. They will have to pay more out of pocket than they had in the past and the new health insurance policy comes with a much higher deductible so the chances of making an appointment with the medical health care provider are pretty slim.
Related posts from our blog:
No related posts.