The Search For An Affordable Insurance (Part II)
Oct 1st, 2009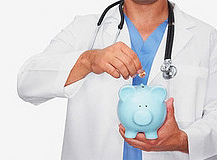 The self-employed and the small business proprietor come in many shapes and sizes. Health, though important does take a back seat to operating a business by a sole proprietor. The search is long and difficult and with so many health plans out on the market today it will take time to research and decide which health care insurance plan will work best. Unfortunately the facts of the matter are dismal at best because medical insurance rates are on the brink of being unreachable. For example:
Office Visit Copayment       D&C                                           Single                                           $387.63
In Network Deductible         $2,000/$4,000              Parent/ Child or Children     $717.12
In Network Coinsurance      100%                                       Husband / Wife                       $852.79
Hospital Inpatient              Deducible & Coinsurance              Family                       $1,201.65
Outpatient Surgery            Deductible & Coinsurance
Pharmacy                               $15/50%
Being self-employed or a small business sole proprietor also carries many hidden costs for the entrepreneur.  The market for individual low cost health insurance is unfortunately fragmented and prone to the insurance policies that put low caps on the coverage extended and exclude all and any pre-existing conditions anywhere from three months to a grand total of eighteen months. Though there are many self-employed and small business proprietors do manage to buy into a group insurance, there are many who either lost their coverage or never acquired it.
The solution for many of the self-employed or small business entrepreneur is the hope of buying into a universal health care plan where the annual premium and the monthly premium will be at a reduced rate. Many of the self-employed and small business entrepreneurs already have invested in the HSA or Health Savings Account. This is tax free account tied to a high deductible insurance plan that at the least affords them medical health coverage. Another popular option that is receiving much attention lately is the Freelancers Union. In New York this offers a guaranteed –issue group-rate health coverage. One that many self-employed entrepreneurs have taken an interest.
This growing popular plan is catching on because a traditional group health insurance plan on average costs $383.00 per month for an individual and $1067.00 for families. Through the Freelance Union medical a comprehensive health plan is attainable for as little as $130.00 per month for an individual and $412.00 dollars per month for families. This seems, at least on the surface to be the best opportunity for the self-employed to gain affordable insurance at a premium to more and more individuals.
Related posts from our blog:
No related posts.