The Different Types of Disability Insurance for the Self-employed
Sep 24th, 2009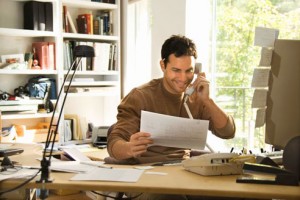 Basically there are two types of disability insurance that a self-employed individual would consider in his or her overall health care package.  The first type of disability is short-term disability and the second is long-term disability. The waiting period to get on either is different.  With short-term disability a self-employed individual would be able to get on the policy no later than 14 days, however, with long-term insurance the waiting period is from a few weeks to several months. Purchasing long-term disability health insurance makes much more business sense, because a self-employed individual will come across times in their life when they may be out of work due to a serious accident which may render them disabled or they come down with a debilitating illness.  It is important for self-employed individuals to prepare for the future for not only their job is affected their family income potential is affected as well.
There are two important standard features in long-term disability policies.  The first feature is called Non Cancelable. The only condition that would allow a company to cancel the policy would be non-payment.
The second feature is called Guaranteed Renewable, which means that a policyholder can renew every year regardless of how many times that policyholder would have to use benefits.  This function of the disability policy is so important for general health care and so crucial for protecting the business from folding in case the self-employed individual is out too long.
There are other options available which would be beneficial for a self-employed individual.  For example, there is the option to purchase more disability health insurance at a later date. Don't overlook this option, because even though you may be young and healthy there will come a day when your health may fail. You want to make sure you have the extra cushion to purchase more disability insurance to prepare for that possibility.
The feature of Coordination of Benefits will specify a total sum amount and so when all income from other avenues for disability relief is calculated what those benefits would not cover, the disability insurance plan will.
Cost of living adjustment (COLA) will adjust benefits in collaboration with the cost of living however; premiums will be adjusted upward as well.
The residual or partial disability rider feature is extremely useful for a self-employed individual because the policy allows for policyholder to return to work part-time and collect a partial salary and a partial disability payment.
Return of premium, again another great benefit, which mandates that if a claim has not been made within a certain period of time the insurance company will refund some of the premium, This is excellent for a self-employed individual who is interested in maximum health care protection.
Finally the waiver of premium provision stipulates that if a policyholder has been disabled for more than 90 days he or she is no longer required to pay the premiums.
Related posts from our blog:
No related posts.