Is Universal Health Care a Value?
Nov 20th, 2009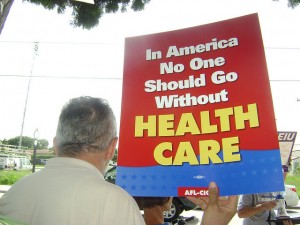 The many New York citizens living and working in and around the area are today employing themselves in an ever-changing market. Most small business proprietors, self-employed entrepreneurs, and freelancers have found themselves inadvertently positioned in the cross hairs of the ever-increasing health crisis. The difficulties with the medical insurance system today in New York as in all the other states are that there are many individuals who are personally affected.
At this point in time in New York all the entrepreneurs who create diligently are floundering in a kind of limbo should the universal health care system be enforceable in the future.  A one size fits all approach will not solve the difficulties the business community and the residence face, it will on delay it. Under a health insurance policy such as this, unless you are among the indigent or working poor, the business proprietor, self-employed entrepreneur and the freelance individual will still be expected to pay a higher rate than the average individual does.
1.               Self-employed and others will still have to pay a flat fee unrelated to the business income.
2.               Self-employed and others still have a catch-22 of paying more when sick though theoretically earning less.
Unfortunately, the health insurance premiums of individual health insurance coverage will continue on the road to being just another tax on all residence until a few common sense changes put into place. While various surveys show Americans twice as entrepreneurial as other European countries, we are only half as likely to join the ranks of the self-entrepreneurial spirit. This is explainable through here or you can call one of our staff.
It seems the medical health system is holding all American citizens hostage as some try to sort out the solution to what the citizens as an entity need and what is necessary. The longer we wait, the higher the price tag for comprehensive medical insurance coverage. The most comprehensive low cost health insurance offered through the freelance unions comes with a hefty price tag of $4000.00 for family coverage with a huge deductible of $10,000.00.
Unfortunately if we continue on the path we are on, many small business proprietors, self-employed entrepreneurs and freelance individuals in the working world today will vanish. This would be a terrible loss for the country as a whole, not just with New York. To lose the entrepreneurial spirit or to even consider inadvertently squashing it would be such a sad and disastrous move on the part of the country.
Related posts from our blog:
No related posts.