Smokers To Pay More For Health Coverage
Jan 31st, 2013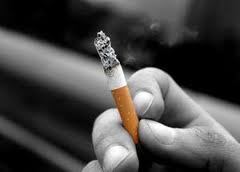 It seems like every year we learn more about the health benefits of quitting smoking. It reduces the risks for heart disease, several cancers, and premature death.
If improving your health does not sound as appealing, maybe saving a lot of cash can finally make you quit the nasty habit. "Obesity and smoking have large long-term impacts on health care costs of working-age adults," according to Department of Health Sciences Research.
Smoking is a great burden on the nation's health care and economic systems. A study from the Centers for Disease Control and Prevention found that smokers cost taxpayers $96 billion in health care services and another $97 billion in lost productivity.
Just how much money are we talking about? Smokers pay an average monthly premium of $213, while non-smokers pay an average monthly premium of $187. That's a 14% difference.
Women smokers have it worse. They pay an average monthly premium of $247, 22% more than the $203 average premium paid by non-smoking women.
Health reform law
Starting 2014, insurers can charge smokers to pay more for health coverage by as much as 50% more on monthly premiums. However, according to some health policy experts, higher premiums do not necessarily encourage smokers to quit. Furthermore, smokers with employer-sponsored coverage can get away with tobacco penalties by joining a smoking cessation program.
Many low-income smokers could end up uninsured under the new law as the penalty can make insurance costs too expensive for them, said Louise Norris of Colorado Health Insurance Insider.
With more than 43 million adult smokers in the U.S., the added charges can help health insurers offset the costs incurred by their smoking members.
Source: VISTA Health Solutions
Related posts from our blog:
No related posts.