Walking Can Help Prevent Type 2 Diabetes, Study Says
Jul 17th, 2012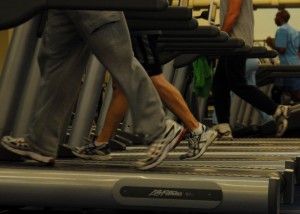 If you have a high risk for diabetes, and don't engage in physical activities very often, it's now being suggested that  increasing the number of steps you take each day can actually help you avoid getting the blood sugar disorder. A new study has found that walking can help prevent type 2 diabetes.
Previous studies have indicated that walking more is linked to a lower risk of developing diabetes. This time around, the researchers wanted to measure exactly how many steps people take, according to lead author Amanda Fretts of the University of Washington in Seattle.
"Our finding wasn't surprising given that other studies have shown that even light activity is associated with a lower risk of diabetes," Fretts said.
The researchers enlisted more than 1,800 volunteers and let them wear pedometers for a week to measure the average number of steps they take each day.
The subjects are all native Americans from Arizona, Oklahoma, and North and South Dakota. They were chosen for their high rates diabetes and low physical activity levels.
About twenty five percent of the group engaged in very low activity, taking an average of less than 3,500 steps every day. Half of the participants took less than 7,800 steps a day. A minimum of 10,000 steps each day is recommended by experts. It takes about 2,000 steps to walk one mile.
None of the subjects had diabetes when the study started. At the follow-up five years later, 243 participants were found to have the condition.
Seventeen percent of those who had the lowest physical activity developed diabetes, while twelve percent of the participants who took more than 3,500 steps developed the disease.
After eliminating other risk factors associated with diabetes such as age and smoking, the researchers have found that those who walked the most were 29 percent less likely to develop the disease compared to those who walked the least.
Although the research does not prove that walking more will lower the risk of diabetes, Fretts presented possible reasons how walking can help.
"Increased physical activity may prevent weight gain and promote weight loss, a major determinant of diabetes risk," she said.
Physical activities can also help the body reduce inflammation and utilize glucose efficiently to help lower diabetes risk.
Related posts from our blog:
No related posts.