Statins May Reduce Cancer Related Deaths, Study Says
Nov 12th, 2012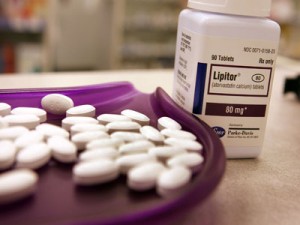 Statins are commonly used drugs that help prevent heart-related deaths. Recently, scientists have discovered that statins may reduce cancer related deaths.
Researchers in Denmark surveyed cancer patients between 1995 and 2007 and found that those who took statins before their cancer diagnosis had a higher survival rate compared to patients who did not take the cholesterol-lowering drug.
While the study did not prove a cause and effect relationship between statins and cancer survival, the findings are "intriguing and exciting" and worthy of further research, said Eric J. Jacobs, PhD, of the American Cancer Society.
However, he also noted that "they do not mean that people with cancer should start using statins in the hopes of improving their prognosis."
While several studies have shown that statins play a huge role in preventing heart attack and stroke, this is the first major study that shows the drug's potential for reducing cancer-related deaths.
"Additional research will be needed to clarify if and how statins might influence survival in cancer patients," Dr. Jacobs said.
The study was published in the recent issue of the New England Journal of Medicine.
For the study, researchers tracked nearly 300,000 adults at least 40 years old. All were diagnosed with cancer between 1995 and 2007.
Researchers followed the subjects until the end of 2009 and found that those who used statins had a fifteen percent lower risk of dying than those who did not use the drug.
About 19,000 participants took statins before they were diagnosed with cancer.
How Is This Possible?
According to researcher Sune F. Nielsen, PhD, statins may improve cancer survival through a number of ways.
One study suggests that cancer cells need cholesterol to grow and lowering cholesterol inhibits tumor growth.
"It is not so far-fetched to imagine that taking a cholesterol-reducing drug can slow the progression of cancer," Dr. Nielsen says.
Source: VISTA Health Solutions
Related posts from our blog:
No related posts.