5 Important Tests You Can Take At Your Next Clinic Visit
May 21st, 2012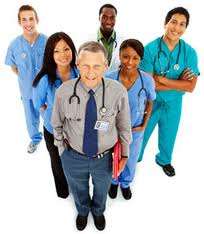 How would you know if you are suffering from a disease? Many people are going through life unaware of their health problems. An accurate diagnosis is the first step to manage a disease. Healthcare providers consider a physical exam as an essential aspect of optimum wellness.
Experts have named five important tests you can take at the doctor's office on your next visit. These simple tests can be performed even if you're not up for a physical checkup, since they don't require any special equipment and won't cost you a lot.
1. Fasting Blood Sugar. Approximately 26 million Americans have diabetes, and 7 million of them don't know they have it. Diabetes can lead to major problems like blindness, cardiovascular disease, kidney failure, and lower-limb amputations. It is the 7th leading cause of death, so it's important to know if you have the disease or you are at risk for developing it. Fasting blood sugar test is a simple way of detecting high blood sugar.
Another procedure known as the A1C test can also detect the ratio of sugar-coated hemoglobin in the body over the past two to three months. This test can diagnose type 1 or type 2 diabetes and can determine how patients manage their blood sugar levels. Unlike fasting blood sugar test, the A1C test does not require overnight fasting.
The American Diabetes Association recommends diabetes screening every 3 years, once you reach 45 years. Overweight adults who have at least one other risk factor like hypertension, are advised to take the test regardless of age.
2. Fasting Lipid Profile. At least thirty percent of adults in the country have elevated cholesterol and half of them are not getting any treatment for the condition. Adults 20 years and older should have a lipid profile at least every five years, the American Heart Association recommends. The test measures low density lipoprotein (associated with heart disease), high density lipoprotein (the "good" cholesterol), and triglycerides. High cholesterol is one of the main reasons of rising healthcare costs. Everyone should be aware of their cholesterol levels.
3. High-sensitive C-reactive protein (CRP). CRP is produced by the liver and rises when the body encounters inflammation – an indicator of heart disease risk. However, inflammation can also be caused by infection, trauma, or any other factor not related to heart disease. The test can also be used to detect other diseases such as lupus and rheumatoid arthritis.
4. Vitamin D Level. This may not be an urgent test but is definitely an important one. Vitamin D is important to maintain bone density and avoid osteoporosis. Getting enough vitamin D through the diet is difficult. Healthy sun exposure is still the source of vitamin D. Those who live in places with very little sunshine can have a hard time getting enough of it, but supplements are available to make sure your body gets enough vitamin D.
5. Blood pressure test. Hypertension persists among a third of American adults. People can have this condition for years and not experience any symptoms, potentially damaging the heart and blood vessels the whole time. Blood pressure test can be accessed in many areas including pharmacies, clinics, and health centers.
For more information contact your health care provider. Or, contact your medical insurance company to find a physician covered by your plan.
Related posts from our blog:
No related posts.