Build an Exercise Habit in Four Easy Steps
Дек 3rd, 2012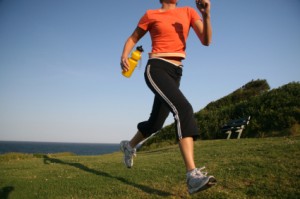 Exercise has countless benefits; unfortunately, most of us just find it difficult to do it on a regular basis. We join a gym, start jogging, or enroll in a yoga class, only to quit a few weeks later because we can't find the time. Exercise should be a habit and not just something we need to find time for. We may need to alter our behavior so it becomes a part of our daily routine.
To make exercise as automatic as waking up and brushing your teeth, it should be approached with the intent of building a habit. Here are four steps to help you build an exercise habit and get started:
1. Make bite size changes. You are likely to fail if you set lofty fitness goals right away. Don't pledge to work out for an hour everyday right off the bat; plan easy and small changes so you can't have any excuse not to do them. Instead of aiming for one hour exercises, start off with 15 minutes of easy exercises such as walking or slow running. You can also go for specific and easy changes like doing ten pushups each morning. Making bite size changes will help you succeed in your little goals, removing the sense of doing an overwhelming task and helping you develop an effective exercise habit.
2. Look for exercise triggers. Triggers are cues that lead you to do a particular action. For example, if you don't feel like going to the gym, try putting on your exercise clothes first. This will set a chain reaction that leads you to the next step. You can also set the alarm every 6 PM to remind you to drop and do 15 pushups. Choose triggers that you already do like stepping on a weighing scale or brushing your teeth. Associating a trigger with your new exercise task will help you build an effective behavior change.
3. Stick with your task and increase intensity. It takes time to form new habits. For some, it takes about a month; while others may take shorter than that. It really doesn't matter how long it takes, just stick with your tasks until you're doing them without even thinking. Once you get in this zone, you can start to increase intensity, like adding an extra mile to your run or another 10 pushups. Once you've developed a habit, your next step is to add things to you exercise routine and trust that you can keep it up.
4. Redesign your environment. This step is important to sustain your fitness goals. You need to assess your environment and change it in ways that push you to achieve your fitness goals. For example, you can hang out with people who love to exercise and have the same goals as you do or you could install a pull up bar right in your bedroom. You can also reward yourself once you've met your new goals. Redesigning your environment will help you shape your fitness habits as easy as possible.
Source: VISTA Health Solutions
Related posts from our blog:
No related posts.